NETWORK TOPOLOGY
by Nurul Maisyarah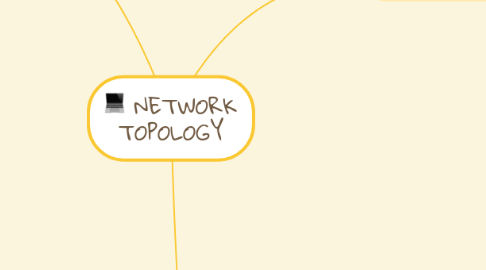 1. PHYSICAL TOPOLOGY
1.1. THE ARRANGEMENT OF A CABLING IS THE PHYSICAL TOPOLLOGY.
2. TYPES
2.1. BUS TOPOLOGY
2.1.1. A bus network consists of a single central cable, to which all computers and other devices connected.
2.1.1.1. ADVANTAGE
2.1.1.1.1. Inexpensive and easy to install
2.1.1.2. DISADVANTAGE
2.1.1.2.1. It is difficult to identify the problem if the entire network shut down.
2.1.2. The transmission of data is relatively simple as packets travel in one direction only.
2.2. RING TOPOLOGY
2.2.1. A cable forms a closed loop with all computers and devices arranged along the ring.
2.2.1.1. ADVANTAGE
2.2.1.2. DISADVANTAGE
2.2.1.2.1. A failure in any cable or device breaks the loop and can take down the entire network.
2.3. STAR TOPOLOGY
2.3.1. All the computers and other devices on the network connect to a central device.
2.3.1.1. ADVANTAGE
2.3.1.1.1. If one device fails, only that device is affected.
2.3.1.2. DISADVANTAGE
2.3.1.2.1. More expensive because of the cost of the hub/switch.
3. LOGICAL TOPOLOGY
3.1. THE PATH THAT DATA TRAVELS BETWEEN COMPUTERS ON A NETWORK IS THE LOGICAL TOPOLOGY.