Milburn Intership Program
by
Jason Scheffler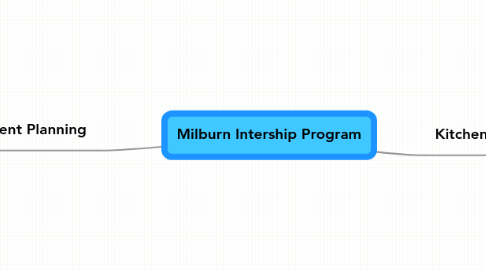 0.0
stars -
0
reviews range from
0
to
5
Milburn Intership Program
Event Planning
Banquet Operations
Week 1, Observe Staffing Function, # employees per # of guests, Does # differ if the event is a buffet or full service?, How to acquire temps from temp agency., Observe setup and take down of all banquets., Other than the overall number of seats, does size change any other aspect of the process?, Does having a bar change which rooms are used?, # of staff needed for set up, Observe how much work setting up a banquet takes.
Tournament Catering Operations
Week 2, Help with planning process of Tournament., Help determine how many guests are in tournament and also help with pre and post banquet planning., Help setup news letters for all guests in the tournament., Work with tournament coordinators to make sure all details are taken care of., Is a beer cart needed., Is food being catered in for the event or are all meals being taken care of in house., Will there be an open bar during the event or not. If so, how will inventory be tracked?, Who is taking care of tournament standings? Is the pro shop taking care of the issue or will this be performed by members of the country club?, Logistics of Tournament, Shotgun start or tee times?, How many rounds, Mini games a specific holes?, What time will the event start each day?, How many days?
Week 3, Execute the event., Help set up each day for the event., While players are on the course, help set up for any post tournament events.
Schedule during Event planning will be left up to current supervisors. This is because # of banquets and times will vary depending on time of year.
Kitchen Management
Kitchen Training (Week 1)
Schedule for week 1 Sunday noon to 5 ,Tues Through Thurs. 10am - 6pm Fri 1pm - 10 pm, Sat. 5pm - 9pm
Proper Inventory Procedures (Sunday, Tuesday, Thursday), Participate in Inventory (Sunday), Determine which items are counted and which are weighed., Learn why items are inventoried in this manor., Learn which department takes care of what items. (FOH or BOH), Participate in Receiving Goods (Thursday), What are Par Levels, Determine if products are of quality, Learn how to determine which items to count and which to weight upon recieving., Participate in the Ordering Process (Tuesday), Why carrier A is used over carrier B, If possible see where product substitution is possible and where it is not., How orders are place., Through Rep, Phone Call, On-Line Ordering
Employee Staffing (Wednesday), Number of Staff Needed Per Shift, Employee Strengths/Weeknes, Banquet Staffing (Extra Staffing?), Size of Banquets, Staff needed to tend buffet, Maximum hours per week, Full time or Part Time, Child Labor Laws, Labor Costs, Historical records for week, Events for the week?, Golf Tournament, Swim Meet, Other banquets?, Budgeted Costs, Participate in making schedule
Expectations for Management (Sunday), Proper Work Clothing, Punctuality, Problem Solving, Overall tend to guest's needs
POS system (Tues through Sat), How are tickets sent to the kitchen, How are tickets sent from Snack Bar to Kitchen, Possible system issues, How to fix minor problems with system, How system helps with cost controls
Cover Proper Food Handling Procedures (Entire Week)
Nightly Prep Levels (Tues through Sat)
Food Preparation and Cooking (Tuesday through Saturday)
Snack Bar Management (Weeks 2/3)
Week 1, Employee Scheduling, Primarily create snack bar schedule (Tuesday), Discuss schedule with head Chef and receive feedback (Wednesday), Observe/ Participate in Snack bar operations., Observe differences between kitchen and snack bar., Difference in product, Burgers Fries vs Salmon, Pizza, Production Time, Difference in hours of operation., Busy times vs. Slow Times, Busy days vs. slow day, Difference in closing times throughout the week., Schedule for SB week 1, Mon, Wed, Thurs: 10am - 7pm Friday, Sat: 10am - 8pm Sun:Noon -6
Week 2, Snack bar Ordering, Take Snack Bar Inventory (Sunday of 1st Week), Order product for final week (Tuesday), Receive Orders on Thurs. for final week., Manage overall operations, Create prep lists for each day, Put tickets into POS system., Manage staff and cleanliness of establishment., Schedule for SB Week 2, Own discretion, (Must have 40 hrs.)