A mobile phone is a portable telephone that can make and receive calls over a radio frequency link while the user is moving within a telephone service area.
by Акерке Шенгелбаева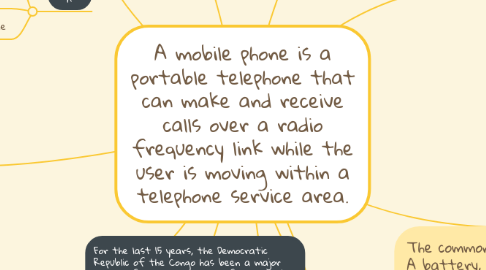 1. Types
1.1. Smartphone
1.2. Feature phone
1.3. Kosher phone
2. Living in a Digital World - Mobile Phones
3. In addition to telephony, 2000s-era mobile phones support a variety of other services, such as text messaging, MMS, email, Internet access, short-range wireless communications (infrared, Bluetooth), business applications, video games, and digital photography.
4. The common components found on all phones are: A battery, providing the power source for the phone functions. An input mechanism to allow the user to interact with the phone. These are a keypad for feature phones and touch screens for most smartphones. A screen which echoes the user's typing displays text messages, contacts, and more. Basic mobile phone services to allow users to make calls and send text messages.
5. As a phone moves around, a phone will "hand off"- automatically disconnect and reconnect to the tower that gives the best reception. Additionally, short-range Wi-Fi infrastructure is often used by smartphones as much as possible as it offloads traffic from cell networks on to local area networks.
6. The first handheld mobile phone was demonstrated by John F. Mitchell[1][2] and Martin Cooper of Motorola in 1973, using a handset weighing c. 2 kilograms (4.4 lbs).
7. In sound, smartphones and feature phones vary little. Some audio-quality enhancing features, such as Voice over LTE and HD Voice, have appeared and are often available on newer smartphones. Sound quality can remain a problem due to the design of the phone, the quality of the cellular network and compression algorithms used in long distance calls.
8. For the last 15 years, the Democratic Republic of the Congo has been a major source of natural resources for the mobile phone industry."[79] The company Fairphone has worked to develop a mobile phone that does not contain conflict minerals.
9. GSM feature phones require a small microchip called a Subscriber Identity Module or SIM card, in order to function. The SIM card is approximately the size of a small postage stamp and is usually placed underneath the battery in the rear of the unit. The SIM securely stores the service-subscriber key (IMSI) and the Ki used to identify and authenticate the user of the mobile phone.
10. Mobile phones communicate with cell towers that are placed to give coverage across a telephone service area which is divided up into 'cells'. Each cell uses a different set of frequencies from neighbouring cells, and will typically be covered by 3 towers placed at different locations. The cell towers are usually interconnected to each other and the phone network and the internet by wired connections.
11. A common data application on mobile phones is Short Message Service (SMS) text messaging. The first SMS message was sent from a computer to a mobile phone in 1992 in the UK while the first person-to-person SMS from phone to phone was sent in Finland in 1993.
12. From 1983 to 1998, Motorola was market leader in mobile phones. Nokia was the market leader in mobile phones from 1998 to 2012.[19] In Q1 2012, Samsung surpassed Nokia, selling 93.5 million units as against Nokia's 82.7 million units. Samsung has retained its top position since then. In Q2 2016, the top five manufacturers were Samsung (22.3%), Apple (12.9%), Huawei (8.9%), Oppo (5.4%), and Xiaomi (4.5%)