What are the differences and similarities between mixtures, and pure substances?
by Andrew Phillips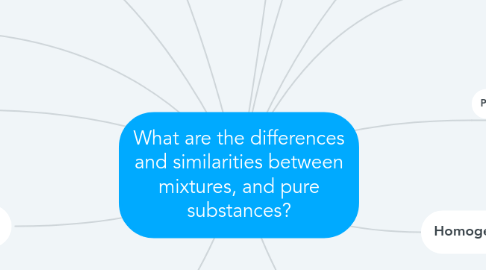 1. Pure substances are substances that are made of only one type of atom or only one type of molecule.
2. Differences: Pure substances can be made up of more than one atom but they are all the same type, while mixtures are made up of different atoms.
3. PURE SUBSTANCES.
4. MIXTURES
5. a mixture is a substance made up of other substances.
6. differences: mixtures are very different from substances because they are a mixture of different things, pure substances arent, they are only one type of atom.
7. One example of a mixture is dish soap, because it is made of different substances.
8. Similarities: The similarities of mixtures and Pure substances are simple 1. Both include substances 2. Both are used in solutions 3. And both are used in some daily life uses.
9. one example of a Pure substance is Gold, because it is only one type of atom.
10. Homogeneisis mixtures:
11. The definition of a homogenous mixture is a mixture that has the same appearance, and composition throughout.
12. Heterogenesis mixtures
13. The definition of a heterogeneous mixture is any mixture that is not fitted into in composition.