Case Study: Jamie Thraves
by Connor Brown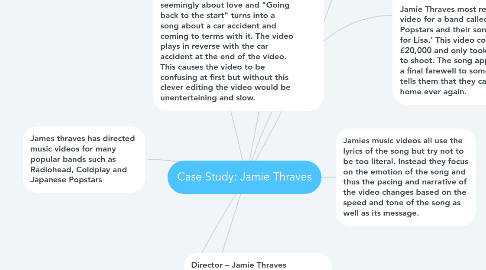 1. Jamies music videos all use the lyrics of the song but try not to be too literal. Instead they focus on the emotion of the song and thus the pacing and narrative of the video changes based on the speed and tone of the song as well as its message.
2. Director – Jamie Thraves Born in Romford in 1969 he came from a lower class background but found his fame in the music industry. He made short films at University which won awards at a film festival. He used this award-winning short film as a 'calling card' to get a 'foot in the door' with the video production company Factory Films Began by shooting three very low budget music videos as they cost about £5,000 each.
3. As can be seen for many directors in the business it is a precarious existence where their livelihood is dependent on each commission as if their music video failed then they would be unlikely to make anymore high budget and thus well paying music videos. Jamie Thraves submitted treatments for his two best known videos and each was accepted
4. James thraves has directed music videos for many popular bands such as Radiohead, Coldplay and Japanese Popstars
5. Radiohead – Just The music video for Radiohead's 'Just' had a £100,000 budget and was shot in three days. This video amplifies its lyrics as it appears to be quite anarchic and over the top. It appears to challenge society directly.
6. Coldplay – The Scientist The music video for Coldplay's 'The Scientist' had a £200,000 budget which was double the budget for Radiohead's 'Just' Music video but similarly it was show in only three days. As Thraves became more well known in the music industry the budgets for his music videos increased as they were seen as likely to be successful. This music video amplifies its lyrics as a song seemingly about love and "Going back to the start" turns into a song about a car accident and coming to terms with it. The video plays in reverse with the car accident at the end of the video. This causes the video to be confusing at first but without this clever editing the video would be unentertaining and slow.
7. Jamie Thraves most recent music video for a band called Japanese Popstars and their song - 'Song for Lisa.' This video cost about £20,000 and only took two days to shoot. The song appears to be a final farewell to someone as it tells them that they cannot return home ever again.
8. Blur's Charmless man music video was also directed by James Thraves. It depicts a man who is without 'Charm' and is disliked by many. The video amplifies the lyrics of the song as the lead singer jumps around and has a lot of energy for a relatively sad song. The music video ends with the 'Charmless man' attempting to kill the band but fails and sees them again, almost mocking him.