Browsers 2010
作者:Luis Blanco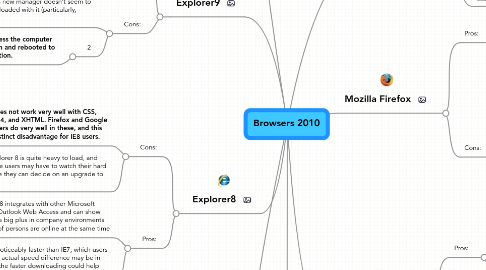 1. A web browser is a software application for retrieving, presenting, and traversing information resources on the World Wide Web. An information resource is identified by a Uniform Resource Identifier (URI) and may be a web page, image, video, or other piece of content. ...
2. Opera
2.1. Pros:
2.1.1. Opera's browser is light-weight and well-built. The download and program size is much smaller than IE, an
2.1.2. This browser is, and has been, considered one of the most secure browsers available. Opera has the unique advantage of being little known. Virus and hacking threats and techniques that are made to attack personal computers are targeted towards the most used browser:
2.2. Cons:
2.2.1. Handy helpful shortcuts may simply be a confusing hassle to someone who is not accustomed to new features, like mouse gestures (allows you to move forward, back, open new tabs, etc., by clicking and moving the mousen
2.2.1.1. http://bit.ly/fNebsR
2.2.2. For slow connections, downloading this program could be difficult and you may have problems getting it downloaded.
3. Google Chrome
3.1. Pros:
3.1.1. Google's Speed Tracer tool Sandboxed plug-ins Sandboxed tabs Sandboxed extensions Evernotes web version actually works in it Streamlined interface Easy to use home page
3.1.2. Start up speed Page speed load times Javascript execution speeds Works better for Google products Built in search engine into the URL bar
3.2. Cons:
3.2.1. Less people use it, smaller market share Doesn't have firebug extension (no longer an issue, extension came out since starting use) Doesn't have pixel perfect extension Doesn't have yslow extension
3.2.2. Doesn't have developer toolbar extension (Most tools in the developer toolbar are replaced by multiple extensions) I am use to using Firefox (no longer an issue) Firefox Has been around for a few years Unable to do a full screen capture of a website with extensions (no longer an issue, extension came out) Unable to not save all data automatically (no cookies, history, downloads, etc (small issue))
4. Apple Safari
4.1. Pros:
4.1.1. laims to be the fastest and was for a long time, the most features
4.1.2. secure and the fastest extend able has a lot of new features that is revolutionary, and more
4.2. Cons:
4.2.1. if you add to many addons can get bulk not light weight at all so it can slow down your computer while its running
4.2.2. Safari 5.0.7533.16 is the bottom-feeder of the "Official HTML5 Test Suite Conformance Results" sporting the lowest HTML5 compliance level of all browsers.
5. Mozilla Firefox
5.1. Pros:
5.1.1. Speed. Firefox® is reported to be the fastest browser when it comes to download speed. Not only do programs and files download faster, but you get a record of all your downloads in the form of a table, so you can erase or move them at your convenience
5.1.2. Security. Firefox® has some advanced security measures that protect your computer from spyware and even certain viruses. Firefox® also comes with a state-of-the-art popup blocker that stops almost 100 percent of popups.
5.2. Cons:
5.2.1. Compatibility issues. The main disadvantage of Firefox® is compatibility. Some websites do not show properly in Firefox®, and require you to view them with IE. This includes pages with ActiveX and VBScript, both of which are not supported by Firefox®.
5.2.2. Interrupted service. Another disadvantage of Firefox® is that downloads cannot be resumed if interrupted. This may not be a big deal if you have DSL service, but those on a dial-up connection may have a lot of trouble with this. Firefox® was actually designed for people using high-speed Internet, which means dial-up users can run into many problems along the way.
6. Explorer9
6.1. Pros:
6.1.1. Overall I would sum up IE9's performance on Flash and HTML5 as a lot better when compared to other browsers.
6.1.2. IE9 has a perfect score in no less than five categories, 100% for attributes, audio, foreigncontent, video and xhtml5, results unmatched by any other browser.
6.2. Cons:
6.2.1. Although it's clearly an improvement over what's found in previous versions of IE, this new manager doesn't seem to track some file types downloaded with it (particularly, image files).
6.2.2. 2
6.2.2.1. After Installation process the computer needs to be shut down and rebooted to complete final installation.
7. Explorer8
7.1. Cons:
7.1.1. IE8 does not work very well with CSS, HTML 4, and XHTML. Firefox and Google browsers do very well in these, and this is a distinct disadvantage for IE8 users.
7.1.2. Internet Explorer 8 is quite heavy to load, and smaller home users may have to watch their hard drives before they can decide on an upgrade to IE
7.2. Pros:
7.2.1. Internet Explorer 8 integrates with other Microsoft applications like Outlook Web Access and can show presence. This is a big plus in company environments where a number of persons are online at the same time
7.2.2. IE8 seems to be noticeably faster than IE7, which users will welcome. The actual speed difference may be in milliseconds, but the faster downloading could help Microsoft win back some customers.
8. Sources
8.1. All sources must be from October/Nov 2010
8.2. http://bit.ly/bDwQsS
8.3. http://bit.ly/9xAsV6
8.4. http://bit.ly/5jusiW
8.5. http://bit.ly/5jusiW
8.6. http://bit.ly/cLPoLK
8.7. http://bit.ly/cCTynF