Media and Identity in Education
by Kendrea GRIFFITH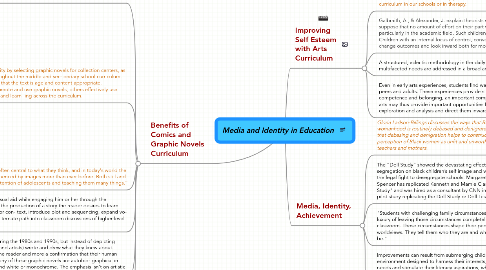 1. Media, Identity, Achievement
1.1. Gloria Ladson-Billings discusses the ways that Black womanhood is routinely debased and denigrated and how that debasing and denigration helps to construct a perception of Black women as unfit and unworthy as teachers and mothers.
1.1.1. Ladson-Billings expresses her concerns that these images migrate into perceptions of Black teachers (and other professionals).
1.2. The "Doll Study" showed the devastating effects of segregation on black children's self image and was used in the legal fight to desegregate schools. Margaret Beale Spencer has replicated Kenneth and Mamie Clark's "Doll Study" and was hired as a consultant by CNN in 2010 a pilot study replicating the Doll Study or Doll Test.
1.2.1. White children have an overwhelming white bias, and black children also have a bias toward white, according to a new study commissioned by CNN in 2011.
1.3. "Students with challenging family circumstances do not have the luxury of leaving those circumstances completely outside of the classroom. Those circumstances shape their perspectives and worldviews. They tell them who they are and who they are likely to be."
1.4. Improvements can result from submerging children in a literate environment designed to harness their interests, address their needs and stimulate their literacy aspirations, while a specific, skills-based program facilitates improved levels of literacy, whether in the classroom or through withdrawal. The teacher's role as 'scaffolder' seems significant: not merely in providing the opportunity to gain practical skills but also in the role of encourager and enabler.
2. Improving Self Esteem with Arts Curriculum
2.1. Visual literacy is the ability to find meaning in imagery. It can be used to promote the critical thinking that is needed in adolescents' lives. Adolescence is a good time to teach critical thinking, but research indicates it is rarely part of the curriculum in our schools or in therapy.
2.1.1. Zambo states adolescents use images of movie stars, models, and athletes to determine standards of beauty for themselves and decide who to make a good friend.
2.2. Galbraith, A., & Alexander, J. explain theorists suggestions that some children suppose that no amount of effort on their part will enhance their performance, particularly in the academic field. Such children exhibit an external locus of control. Children with an internal locus of control, conversely, believe that their actions can change outcomes and look inward both for motivation and perseverance.
2.3. A structured, eclectic methodology in the daily teaching of literacy, children's multifaceted needs are addressed in a broad and balanced curriculum.
2.4. Even in early arts experiences, students find ways to entertain, educate, and inspire peers and adults. These experiences provide students with a sense of their competence and belonging, an important component of identity development. The arts may thus provide important opportunities for adolescents to hone their skills for exploration and analysis and direct them inward, and to develop a positive self-identity
3. Benefits of Comics and Graphic Novels Curriculum
3.1. Struggling students can find comic books and graphic novels less threatening, because the pictures in the graphic format offer that additional support needed to help students understand the meaning of the text, figure out new and unknown vocabulary words, and move the story line along. One of the greatest benefits of using graphic books in the classroom is the way that the pictures in the genre model visualization.
3.2. Educators can take advantage of this popularity by selecting graphic novels for collection centers, as well as incorporating appropriate novels throughout the middle and sec- ondary school curriculum. An essential key is careful selection to ensure that the text is age and content appropriate. Although some educators are reluctant to promote and use graphic novels, others effectively use this genre to promote reading for enjoyment and learn- ing across the curriculum.
3.2.1. Superhero tale serves as an allegory to modern life and provides an escape for readers. Others believe that the superheroes can be compared to the heroic figures in classical mythology.
3.2.2. Frank Miller and Lynn Varley combine fact and fantasy to retell the story of the Spartans and the Battle of Thermopylae, and in the Age of Bronze series, which begins with A Thousand Ships (2001), Eric Shanower writes of the Trojan War. Looking at more recent history, Art Spiegelman examines the Holocaust in The Complete Maus (1997), which combines his Pulitzer Prize–winning Maus I with the sequel Maus II.
3.2.3. In other areas of the curriculum, science educators can use Clan Apis (Hosler 2000) to study the life of the honeybee, The Sandwalk Adventures (Hosler 2003) to look at Darwin's theory of natural selection, or Fallout (Ottaviani 2001) to examine the scientific and social aspects of the development of the atomic bomb. For social studies educators, Joe Kubert takes readers to the Balkans in Fax from Sarajevo: A Story of Survival (1998), while Joe Sacco reports on his experiences in the Mid- dle East in Palestine (2002), and Ted Rall recounts his travels in To Afghanistan and Back: A Graphic Travelogue (2002).
3.3. "What children see - the visual - is often central to what they think, and in today's world the thinking of adolescents is being influenced by images more than ever before. Both still and moving images are capturing the attention of adolescents and teaching them many things."
3.4. The comic book offers the reader visual aid while engaging him or her through the character's dialog. The end result is the production of a story the reader desires to learn about. Comic books offer pictures for con- text, introduce plot and sequencing, expand vo- cabulary and may help provide an alternate path into classroom discussions of higher-level text.
3.5. Many of these comics came about during the 1980s and 1990s, but instead of depicting fantastic superhe- roes these writers (and artists) wrote and drew what they knew about. These comics are less an escape for the reader and more a confirmation that their human desires and wants are not unusual. Many of these graphic novels are autobio- graphical in nature and are often drawn in black and white or monochrome. The emphasis isn't on artistic ability, but on using the comic book format to tell the story in as real a way as possible.
3.6. Graphic novel readers have learned to understand print, but can also decode facial and body expressions, the symbolic meanings of certain images and postures, metaphors and similes, and other social and literary nuances teenagers are mastering as they move from childhood to maturity.