Radio and Movies from the 1920's
by
Seth R.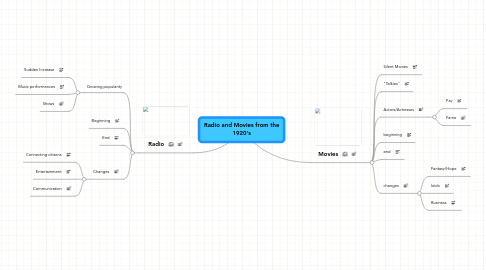 0.0
stars - reviews range from
0
to
5
Radio and Movies from the 1920's
Movies
Movies also became big in the 20's and caused a lot of change in society.
Silent Movies
Began the industrie and built up to ones with sound. they are still enjoyed today by some people.
"Talkies"
were movies with sound that blew the business even biggger and based many movies today.
Actors/Actresses
were kept anonymous and averagely paid if possible.
beginning
In 1922 almost every community had a 100 seat theater.
end
in 1929, movies, theater, and sports brought in 21 percent of our revenue.
changes
Movies were revolutional and caused a lot of change in society
Radio
Radio became a big business in the 1920's and changed society a lot.
Growing popularity
Beginning
In 1922 there were 508 stations and 3 million Americans had radios.
End
In 1929 NBC was making 150 million dollars a year.
Changes
Radio cause many changes in society throughout the 20's.