App Store Optimization - The Essential ASO Resources List -
by Nguyen Quoc Cuong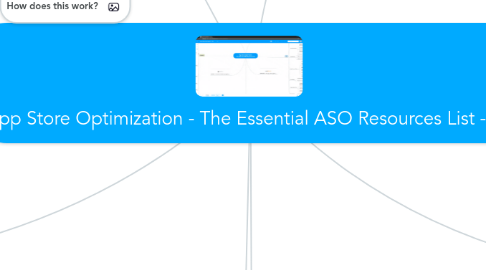 1. iOS
1.1. App Name
1.1.1. App Store Optimization (ASO): App Name And Keywords
1.1.2. App Store introduces 50 character limit of app names
1.2. App Keywords
1.2.1. App Store Optimization (ASO): App Name And Keywords
1.2.2. Free keywords you don't need to include in your metadata
1.2.3. 5 ASO mistakes to avoid
1.2.4. [Apple] Apple's app store search best practices
1.2.5. How to combine SEO and ASO techniques to supercharge your Keyword Research
1.3. App Description
1.3.1. How to Stand Out in App Stores by Doing Localization Right
1.4. App Icon
1.4.1. Tips for designing mobile app icons
1.4.2. How to Design Your App Icon
1.4.3. App icon inspiration on Pinteres
1.4.4. How to A/B test your app icon
1.5. App Screenshots
1.5.1. (Video) 10 Tips to Optimize Your App Screenshots
1.5.2. Use A/B testing tool to find best screenshots
1.5.3. Best Practices from the Top 100 App Screenshots
1.5.4. 10 App Store Screenshots Optimization Tactics Used by Popular Apps
1.5.5. The Ultimate Guide to App Store Screenshots: Sizes, Styles, Tips and Best Practices
1.6. App Ratings
1.6.1. Prompting for App Reviews
1.6.2. SDK to send negative reviews to support
1.6.3. (Gated) 16 Steps to 5-Star App Reviews
1.7. App Preview Video
1.7.1. Apple's App Preview guidelines (post iOS11)
1.7.2. iOS 11 App Previews
1.7.3. How to increase conversion by getting your app store videos right
1.7.4. App Preview Properties (Resolutions and Specifications
1.7.5. How to Create an Effective App Store Video
1.7.6. Apple App Store vs. Google Play Store videos
1.7.7. A Master Class in App Store videos
1.8. Apple Search Ads
1.8.1. (Video) Search Ads Proper Campaign Structure: Brand, non brand and search match
1.8.2. (Video) Apple search ads search term optimization
1.8.3. (Video) Apple Search Ads: what you can get and what you can't get
1.9. Benchmarks
1.9.1. Good App Store Conversion Rates
1.10. App Indexing
1.10.1. In-depth explanation of App Indexing
1.10.2. App Indexing case study
1.11. A/B Testing
1.11.1. Tips on A/B testing your app listing
1.11.2. How to run a good A/B test
1.11.3. World's most ultimatest ASO Checklist
1.11.4. How SmartNews (almost) doubled app store conversion in 30 days
1.12. iOS 11
1.12.1. ASO after the WWDC presentation of iOS 11
1.12.2. iOS 11: The Ultimate App Store Guide
1.12.3. The Visual Guide to iOS 11
1.12.4. iOS 11 App Previews
2. Android
2.1. App Name
2.1.1. App Store Optimization Hacks: A/B Testing Google Play Title
2.1.2. Should you localise your App Name
2.1.3. How to Optimize Your Google Play Store App Details Page
2.2. App Keywords
2.2.1. [Video] How to do keyword optimization for the Google Play Store
2.2.2. [Video] Live review of keyword research for Google Play
2.2.3. A guide to choosing Google Play keywords
2.2.4. How to combine SEO and ASO techniques to supercharge your Keyword Research
2.3. Short Description
2.3.1. How to use the right keywords in your short description
2.3.2. Google Play short description
2.4. App Description
2.4.1. Using rich formatting and emojis
2.4.2. App Store Optimization Tips – 15 ASO Case Studies
2.4.3. How Google's Ban On Testimonials Affects App Store Optimization (ASO)
2.4.4. [Google] localisation checklist
2.4.5. [Google] Get discovered on Google Play search
2.4.6. [Google[ Metadata guidelines (and don'ts)
2.5. App Icon
2.5.1. [Video] How to Design the Most Converting Icon
2.5.2. How to Design Your App Icon
2.5.3. Designing better app icons
2.5.4. Tips for designing mobile app icons
2.5.5. [Google] Icons material design guidelines
2.5.6. How to A/B Test Your App Icon
2.6. App Screenshots
2.6.1. How to optimise screenshots for ASO
2.6.2. How to Create Stunning App Store Screenshots That Increase Downloads
2.6.3. How To Design the Best Screenshots
2.6.4. A/B Testing Screenshots to Improve Installs
2.7. Promo Video
2.7.1. [Google] Guidelines for graphic assets, screenshots & video
2.7.2. How to Create an Effective App Store Video
2.7.3. How to increase conversion by getting your app store videos right
2.7.4. Apple App Store vs. Google Play Store videos
2.7.5. A Master Class in App Store videos
2.8. Featured graphic
2.9. App Ratings
2.9.1. Best Practices for Replying to Google Play Reviews
2.9.2. The right way to ask users to review your app
2.9.3. Prompting for App Reviews
2.9.4. Why you need to reply to your user reviews
2.10. Algorithm Updates
2.10.1. Google Play Algorithm February 2017 Update – focus on user engagement
2.11. A/B Testing
2.11.1. Tips on A/B testing your app listing
2.11.2. How to run a good A/B test
2.11.3. Google Play store listing testing why & how (case study)
2.11.4. How SmartNews (almost) doubled app store conversion in 30 days
3. Resources & Tools
3.1. ASO tools
3.1.1. AppRadar
3.1.2. AppTweak
3.1.3. Mobile Action
3.1.4. App Annie
3.1.5. TheTool
3.1.6. Priori Data
3.1.7. Sensor Tower
3.1.8. TUNE
3.1.9. ASO Desk
3.1.10. Gummicube
3.1.11. AppFollow
3.1.12. Apple Search Ads search popularity chrome plugin
3.2. A/B Testing tools
3.2.1. Splitmetrics
3.2.2. Storemaven
3.2.3. Testnest
3.2.4. RaiseMetrics
3.2.5. Google Play Store experiments
3.3. Apple Search Ads Platforms
3.3.1. SearchAds HQ
3.3.2. Adahead
3.3.3. SearchAds
3.4. ASO Monthly News Update
3.5. Various
3.5.1. See short description in the web
3.5.2. AppKeywords.io
3.5.3. ASO Activities Impact Chart
3.5.4. The ASO Stack Framework
3.6. Assets Galleries
3.6.1. Pinterest App icon gallery
3.7. Screenshot tools
3.7.1. AppLaunchPad
3.7.2. [GitHub] FastLane
3.8. Community
3.8.1. ASO Slack group
3.9. Books
3.9.1. Advanced ASO Book
4. INCIPIA - Full service mobile app agency
5. APPTAMIN - The app video agency
6. How does this work?
6.1. Click nodes (see icon above) to see or mask details for each category
6.2. Click on the link (see icon above) next to an item to see the resource
6.3. New links added each month will be highlighted in green
6.4. [Video] – How to use Mindmap
7. Something missing?
7.1. Know of a great resource that should be added? Send an email to [email protected] or [email protected]