what is the connection between school bullying and teen suicide?
by Isaiah Solis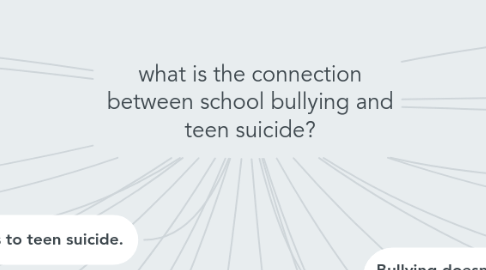 1. Bullying doesn't lead to teen suicide.
2. Bullying leads to teen suicide.
3. Susanne Phillips, an adjunct professor of clinical psychology, claims the reach of media is so great, and the fact that young people have easy access makes cyber bullying so dangerous (Phillips).
4. Larry Magid is a journalist and technology columnist ,claims cyber bullying is not serious (magid).
5. According to an article in the Victoria Advocate, to help prevent cyber bullying, schools need parent volunteers to assist with spreading the information (Advocate).
6. CTV broadcaster Kevin Newman,claims coming out gay is the worst thing you can do.(Newman)
6.1. cyber bullying is not a problem
7. Susanne Phillips feels that "cyberbully is serious and it kills kids" (Phillips).
8. Victoria advocate feels "teens need to stand up to bullies" (advocate).
9. Victoria advocate an administrator of the school claims"the school is the main problem with cyber bullying" (advocate).
10. Susanne Phillips claims "cyber bullying is used in email and online sites" (Phillips).
11. Larry Magid feels that "bullies are a part of growing up" (magid).
12. Larry Magid notes that "bullies are not a problem" (magid).
13. Kevin Newman believes "coming out gay is the worst thing you can do" (Newman).
14. Kevin Newman feels that "coming out as gay was the first step in killing a relationship" (Newman).
15. because bullying on the internet is a personal problem.
16. because its a problem with kids phones and because people are killing them self.
17. it is dangerous and serious.
18. cyber bullying is dangerous and needs to stop.
19. cyber bullying makes me think that other people kill people on their phones
20. it matters because people are killing them self from it.
21. it is not epidemic and is not a main problem with phones.
22. that suicide is decreasing in our world.
23. because we have other problems in our world
24. it is not okay to be expressing your gay problems.
25. because schools are not making this problem serous enough kids are dieing.
26. because its not serious to make statements.