El tabaquismo
by Shahmeer Madni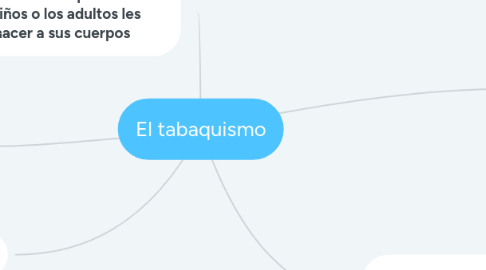 1. Alrededor de 3.900 niños de entre 12 y 17 años empiezan a fumar cada año
1.1. Porque?
1.1.1. Algunos niños comienzan a fumar simplemente porque son curiosos
1.1.2. A otros quizás les guste la idea de hacer algo peligroso.
1.1.3. Otros pueden conocer mucha gente que fuma y pensar que es la forma de actuar o de verse como un adulto.
1.1.3.1. And others can meet many people who smoke and think that it is the way to act or to see yourself as an adult.
2. Fumar es una de las peores cosas que los niños o los adultos les pueden hacer a sus cuerpos
2.1. Smoking is one of the worst things that children or adults can do to their bodies
3. Solo alrededor de uno de cada dieciséis lo hace.
3.1. Only about one in sixteen do so
4. Fumar y usar tabaco pueden causar cáncer y enfermedad cardíaca
4.1. Smoking and using tobacco can cause cancer and heart disease has increased
5. Las Problemas
5.1. el mal aliento los dientes amarillos las prendas con olor desagradable más resfríos y tos las dificultades para seguir el ritmo de los amigos al practicar deportes la billetera vacía: los cigarrillos y los productos del tabaco son muy costosos
5.1.1. bad breath the yellow teeth the clothes with unpleasant odor more colds and cough the difficulties in keeping up with friends when playing sports the empty wallet: cigarettes and tobacco products are very expensive