MATHEMATICAL INSTRUCTIONAL STRATEGIES
by Kaela Gingrich [CBC/CTS Student]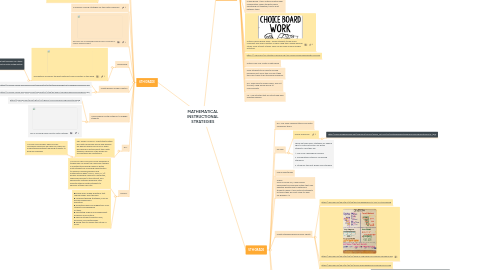 1. 5TH GRADE
1.1. ELL: Use visual representations and math vocabulary terms
1.2. GIFTED:
1.2.1. Online resources
1.2.1.1. http://lcsd2chs.sharpschool.net/UserFiles/Servers/Server_951057/File/GiftedandTalentedResourcesforEducators2013-1.pdf
1.2.2. There are three basic strategies for adding rigor to math instruction for gifted students. Here they are: 1. Use more-challenging numbers 2. Add additional steps by combining standards 3. Introduce the next-grade-level standard
1.3. Use journals/blogs
1.4. ALEKS From McGraw-Hill, a web-based assessment and learning system that uses adaptive questioning to determine students' needs. It also instructs students on topics they are most ready to learn. For grades 3-12
1.5. Create standards based Anchor Charts
1.5.1. https://i.pinimg.com/564x/64/d1/0b/64d10b3b95e9e7351c12a21c431da495.jpg
1.5.2. https://i.pinimg.com/564x/ea/cb/42/eacb424a87c6c627b025a73445b065c6.jpg
1.5.3. https://i.pinimg.com/564x/57/62/34/5762346def3bdd6cc6532924eff07cf7.jpg
1.6. MATH CENTERS
1.6.1. Meet Me At The Teacher Table! - Tunstall's Teaching Tidbits
1.6.1.1. https://i.pinimg.com/564x/b8/33/81/b83381b688c9e0a43b8ce14342c0ff72.jpg
1.6.1.1.1. Math Centers Grouping Chart:
1.7. Math Games
1.7.1. Can You Make It? Math GameBloglovinEmailFacebookInstagramPinterestBloglovinEmailFacebookInstagramPinterest
2. 6TH GRADE
2.1. EXPERT GROUPS: Group students into four equal "Expert Groups" that are strategically organized into heterogeneous groups by ability. Then, give each group a topic to cover or task to accomplish. After the experts have learned about their topic or completed their task, they move into new groups to share what they learned with each other.
2.2. MATH BOARD GAMES:
2.2.1. 10 Fun Parent-Tested Math Board Games
2.3. 8 Problem Solving Strategies for the Math Classroom
2.4. ASSIGN AN UNFORGETTABLE MATH PROJECT: Million Dollar Project
2.5. Technology
2.5.1. The features of Reflex: the best math fact fluency system in the world
2.5.1.1. Reflex is a website that teachers can utilize to help their students master mathematical concepts
2.6. Create helpful Anchor Charts!!
2.6.1. https://s-media-cache-ak0.pinimg.com/originals/ba/2e/99/ba2e99524861d017d388ca77f62fb497.jpg
2.6.2. https://s-media-cache-ak0.pinimg.com/originals/b2/1e/3b/b21e3b071fe3d662dabc4ef02a588707.jpg
2.7. Have amazing "Math Methods" to engage students
2.7.1. https://i.pinimg.com/564x/28/e2/74/28e2741776427f6dca07482f4981d7e5.jpg
2.7.2. Top 5 Amazing Rapid Mental Math Methods
2.8. ELL:
2.8.1. KEY WORD CHARTS: Charts that contain key math vocabulary words and phrases are helpful references for ELLs when discussing or writing about their math thinking, especially if the words are accompanied by illustrations.
2.8.1.1. UTILIZE NONVERBAL RESPONSES: Nonverbal responses will help you check for understanding without requiring students to produce language
2.9. GIFTED:
2.9.1. UTILIZING TECHNOLOGY:Many advances in technology can assist the classroom teacher in meeting the learning needs of gifted math students by providing opportunities to explore complex problems and mathematical ideas (NCTM, 2000, p. 14). Readily accessible classroom computers, supervised access to the Internet, and appropriate software programs offer opportunities for gifted students to advance at their own rate.
2.9.2. ■Posing open-ended questions that require higher-level thinking ■ Modeling thinking strategies, such as decisionmaking and evaluation ■ Accepting ideas and suggestions from students and expanding on them ■ Facilitating original and independent problems and solutions ■ Helping students identify rules, principles, and relationships ■ Taking time to explain the nature of errors
3. 4TH GRADE
3.1. ELL: Use manipulatives. Manipulatives are important tools that make math content comprehensible. They give students ways to construct physical models of abstract mathematical ideas; they build students' confidence by giving them a way to test and confirm their reasoning; they are useful for solving problems; and they make learning math interesting and enjoyable.
3.2. Think-Pair-Share: Ask the question and encourage students to think quietly about how they would respond to the question. One variation asks students to quietly write a response to the question in their math journals. [Think-Write-Pair-Share] After one or two minutes, ask students to share their response with their partner, taking turns so that each partner explains his/her thinking. Walk around the room to monitor student responses. After a few minutes, call on random students to explain how their partnership responded to the question and whether or not they agreed. This strategy is especially effective for students who are reluctant participants as they get to rehearse their response in front of one classmate. Students may also choose to use a partner's words or phrases in addition to their own, if called upon to talk before the whole class.
3.3. Utilize partner talk. For partner talk, ask a question and then give students a minute or two to put their thoughts into words with their nearest neighbor. Partner talk allows more students to participate in classroom discussions, and eliminates the pressure that comes with speaking alone in front of a large group. It also fosters positive peer collaboration; when students figure something out together, trust is built between them.
3.4. Gifted: Choice Board Work: Allows students to feel more confident and offers mastery of skills using their unique learning styles. Offer at least 6 tasks. They can be used as early finisher activities.
3.5. https://1.cdn.edl.io/CC4tDyt8lIM4jiurbImvBJ1WUMc8jMOrKwuQhm9bk8tTuvnZ.pdf
3.6. Gifted: They can create a math game
3.7. Offer students to be able to do hard problems first and if they can do it then they don't have to do the easier problems.
3.8. ELL: make sure to speak clearly, and not too fast, using simple words to communicate.
3.9. LD: Use activities that are structured peer assisted learning