Proyecto Exportación de Concentrado de Chicha Morada
by danery aguilar huaman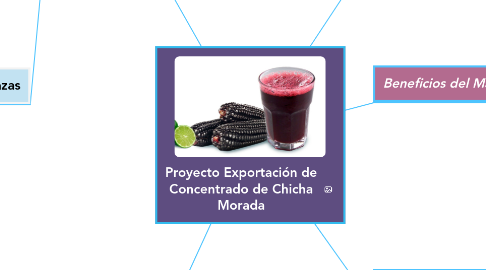 1. FODA
1.1. Fortalezas
1.1.1. Monopolio temporal (hasta que otro país logre imitarlo).
1.1.2. Proveedores confiables.
1.1.3. Principales destinos Estados Unidos y España
1.2. Debilidades
1.2.1. Su cultivo y cosecha es estacional
1.2.2. Es poco conocido a nivel internacional
1.3. Oportunidades
1.3.1. Peruanos residentes en estados unidos que deseen comprar alimentos de su tierra por la similitud de gusto.
1.3.2. Facilidades del Estado al eliminar los aranceles
1.4. Amenazas
1.4.1. Gran cantidad de empresas peruanas exportadoras de maíz morado.
1.4.2. Fenómenos naturales que pueden afectar la producción del maíz morado
2. Beneficios del Maíz Morado
2.1. Poderosos antioxidante del mundo, inhibe el colesterol malo y mejora la circulación.
2.2. Estabiliza y protege las arterias capilares, combate la obesidad, la artritis y la diabetes.
3. Plan de marketing
3.1. Producto
3.1.1. El concentrado de chicha morada tendrá los mismos ingredientes de la receta tradicional más preservantes,
3.2. Precio
3.2.1. Tetra de 1 lt $. 3.125
3.2.2. Tetra Pack 2 lt $. 6.00
3.3. Promoción
3.3.1. Ferias gastronómicas (perú to the word expo in new jersey).
3.3.2. Visitas a restaurantes Y Supermercados.
3.3.3. Construir una comunidad social mediante el facebook, twitter, linkedin, google+, entre otras.
3.4. Plaza
3.4.1. Estados Unidos, específicamente el estado de New Jersey
3.4.2. Tiene el mayor porcentaje de peruanos y una de las mayores cantidades de latinos en todo el país.
4. Presentaciones del Producto
4.1. Envase Tetra Pack 2 litros
4.1.1. Materials
4.1.2. Personnel
4.1.3. Services
4.1.4. Duration
4.2. Envase Tetra Pack 1 litro
5. Descripción de la empresa
5.1. Nombre de la empresa: Exportadora Perú Purple corn
5.2. Tipo de empresa: Venta y Distribución de maíz
5.3. Rama a la que pertenece: Alimentos