INTERNSHIP
by София Эрхан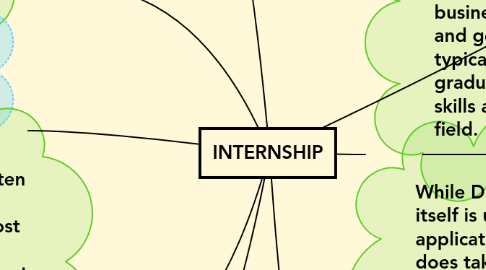 1. TYPES,internships exist in a wide variety of industries and settings. An internship can be paid, unpaid, or partially paid (in the form of a stipend). Internships may be part-time or full-time and are usually flexible with students schedules. A typical internship lasts between one and four months,but can be shorter or longer, depending on the organization involved. The act of job shadowing may also constitute interning.
1.1. Text book, exercises 34, 35, 36, 37
2. the position of a student or trainee who works in an organization, sometimes without pay, in order to gain work experience or satisfy requirements for a qualification.
2.1. Spanish
2.1.1. Midterm
3. ADVANTAGES,An internship can help you identify a particular area in your industry or profession that you're interested in and help you acquire more knowledge regarding this area.
3.1. Physics
3.1.1. Research and prepare experiment
4. ADVANTAGES,internships can be a great solution to this problem as they allow students and graduates to experience a real workplace.
4.1. Spanish
4.1.1. New vocabulary
5. An internship is a period of work experience offered by an organisation for a limited period of time.Once confined to medical graduates, the term is now used for a wide range of placements within businesses, non-profit organisations and government agencies. They are typically undertaken by students and graduates looking to gain relevant skills and experience in a particular field.
6. DISADVANTAGES,internships often have very low earning potential. Unlike a proper, full-time job, most paid internships don't offer a competitive wage to try and attract talent. Interning for the wrong company could leave you in a very be bad financial situation.
7. While DSPD Focal Point on Youth itself is unable to consider applications for internships, it does take interns from time to time through the United Nations Headquarters Internship Programme. This page contains information on internships available throughout the United Nations system and other international organizations. Please contact each office directly regarding programmes and not our office as we only host this list.
8. Internship programs Each year, Deloitte CIS conducts internship programs for students who are in the 3rd, 4th or 5th year of their studies at a leading institute of higher education in Moscow..