MUST SEE PLACES IN NATIONAL CAPITAL REGION
by Christian Balakit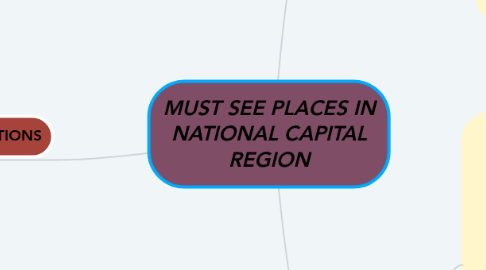 1. SHOPPING and ATTRACTIONS
1.1. MALL OF ASIA
1.1.1. WAY TO GO SHOPPERS! This is a place that you will surely love. Knowing that this mall is the biggest in Asia. Yep! you read it right. Not just in the Philippines but in the whole continent of Asia. This is totally the most amazing place to visit in Manila. Food Chains and restaurants here offer the best foods in town. And because it is the biggest mall in Asia, many artist have their concerts here. Recently, The Vamps, Justin Bieber, Bruno Mars and many more.
1.2. INTRAMUROS
1.2.1. hen talking about Spanish Era, this place is considered as one those influenced and where Spanish tradition still are implemented. We can still see horse drawn with their carriages or "KALESA" they call it. San Agustin Church is also located here in Intramuros.
1.3. BONIFACIO HIGH STREET
1.3.1. Going to this place feels like shopping in the mall and strolling in the park at the same time. It is also a wonderful place where you can find collection of gallery art-designed offices, fashionable boutiques, chef-based restaurant and many more. A very good place that will surely loved by those shopaholics and foodies.
1.4. MANILA OCEAN PARK
1.4.1. Manila Ocean park is a good place to visit and probably the most favorite hot spot of some tourists that visit the country. This place show the Marine habitat of different Aquatic Creatures. Different shows are also celebrated in this place. Sea Lion shows, or any aquatic creatures that can show their talents which are trained before the show begins.
1.5. MANILA BAY
1.5.1. Manila Bay, or others call it Baywalk is the perfect venue for lovers, or just to those who wants to witness the beautiful sunset and and just chill while watching the yachts. The Manila Bay is in line with US embassy and the Manila Ocean Park.
2. CHURCHES
2.1. MANILA CATHEDRAL
2.1.1. Manila Metropolitan Cathedral - Basilica, formally known as Manila Cathedral.
2.2. QUIAPO CHURCH
2.2.1. The Minor Basilica of the Black Nazareneis a prominent Roman Catholic Latin-rite basilica located in the District of Quiapo in the City of Manila, Philippines. The basilica is famous home for the shrine of the Black Nazarene, a dark statue of Jesus Christ many claim to be miraculous
3. HOTELS
3.1. MANILA HOTEL
3.1.1. The Manila Hotel is a 570-room, historic five-star hotel located along Manila Bay in Manila, Philippines. The hotel is the oldest premiere hotel in the Philippines built in 1909 to rival Malacañang Palace, the official residence of the President of the Philippines and was opened on the commemoration of American Independence on July 4, 1912. The hotel complex was built on a reclaimed area of 35,000 square metres (380,000 sq ft) at the northwestern end of Rizal Park along Bonifacio Drive.
3.2. HOTEL KIMBERLY MANILA
3.2.1. Hotel Kimberly: The hotel with a personal touch. In the heart of the vibrant Malate district in Manila stands a quality hotel for the price-conscious guest. Hotel Kimberly brings historical spots, food establishments, shopping centers, and business districts well within your reach. With a 100% Filipino workforce, Hotel Kimberly Manila prides itself in offering excellent amenities and first-class service at economy rates. When looking for Manila hotels, consider staying at the Hotel Kimberly in Manila.