Region IV-A CALABARZON
by cristianjay deuna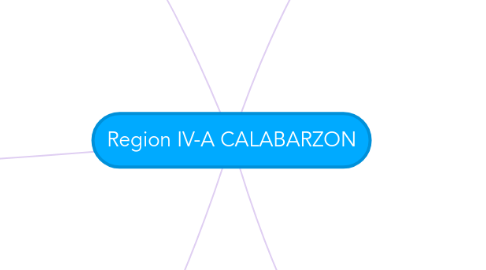 1. Rizal
1.1. Pinto Art Museum
1.1.1. A set of statues made alternatively of stone and candlewax dotted the gardens. In the middle of the green lawn was an antique four poster bed laid out with crisp white sheets. Several beautiful silver art pieces work showed women cradling babies beneath their steel spiral wombs. Everywhere I looked there seemed to be doorways and paths waiting to reveal more hidden treasures.
1.2. Avilon Zoo
1.2.1. Avilon Zoo is currently the largest zoological institution in the Philippines in terms of land area and collection of animals. The 7.5-hectare (19-acre) facility located in Rodriguez, Rizal houses more than 3,000 specimens of exotic wildlife representing more than 600 species of birds, mammals, reptiles, amphibians, freshwater fishes and invertebrates. The zoo has a diverse collection of Philippine native fauna, most of which have been bred successfully in captivity through Avilon's ex situ conservation programs. Avilon Zoo is also home to a diverse collection of plants of which more than half are endemic to Philippines. Avilon Zoo aims to be one of Southeast Asia's premiere wildlife facilities. At Avilon Zoo guided tours and educational field trips offer guests the opportunity to learn about wildlife. Conservation efforts being done to preserve threatened species and to protect the environment. Aside from the animals and exhibits, guests are encouraged to experience feeding animals like arapaimas, exotic water fowl, giant tortoises, wild horses and deer and also interact with the zoo's bunch of talented and friendly creatures.
2. Quezon
2.1. Kanaway Island
2.1.1. this island is very near Jomalig Island. During low tide, you can go walk to the islets Pulo and Manlanat. This island is the best island to see the sunrise. While in the island, you can enjoy having picnics, eat freshly grilled fish and marinated squid. Getting here is quite challenging though, you need to catch a ride from Manila going to Infanta, Quezon, find Real, (the port that would lead you to Patnanungan) ride a boat going to Patnanungan then switch boat that will go to Jomalig Island in the middle of the ocean (Yes, you read it right, so muster up some courage), then once in Jomalig Island, you need to hire a boat going to the beautiful Kanaway Island.
2.2. Alabat Island
2.2.1. Situated in Lamon Bay near Atimonan, Quezon, Alabat Island is a cool place you should get yourself to, its quite, it's beautiful and it's just the right place with the right kind of people (People here are very hospitable and friendly, not that this is something new about Filipinos). If you try googling about it, you can barely see pictures of the place, well which you know is a good sign,( it means its unspoiled and non-commercialized —YET!)
3. Laguna
3.1. Enchanted Kingdom
3.1.1. The theme park was founded by Mario and Cynthia Mamon. Their family frequently visited local theme parks such as Boom na Boom, Big Bang sa Alabang, and Fiesta Carnival, all of which inspired the couple to open a theme park of their own. While they were visiting Ocean Park in Hong Kong in the early 1990s, they attended an amusement conference being held in the country where they were then introduced to the International Association of Amusement Parks and Attractions (IAAPA). Realizing the group can help them enter the amusement park industry, they joined the association in 1992 following the their first trade show attendance in Dallas, Texas. Aside from being the founder and President of Enchanted Kingdom, Mario Mamon is the first Asian and first Filipino to head the International Association of Amusement Parks and Attractions or IAAPA.
3.2. Hulugan Falls
3.2.1. The municipality of Luisiana in Laguna has been dormant, barely earning a blip in the tourism radar. But as more and more Manila-based adventurers scour the surrounding provinces for amazing attractions that are easy to reach, it was only a matter of time for Luisiana to wake from slumber. And the mighty Hulugan Falls takes credit for that. While Laguna is most well-known for cradling the largest lake in the Philippines, it is also home to several waterfalls that punctuate the rivers that the lake spills into. Hulugan Falls is one of them.
4. Batangas
4.1. Mount Macolod
4.1.1. Mount Maculot is a mountain located in the town of Cuenca in Batangas province, in the Philippines. This mountain is popular among mountain climbers and campers; it is the major tourist attraction of the municipality. Mount Maculot (also called Mount Maculod) is a mountain located in the town of Cuenca in Batangas province, in the Philippines. This mountain is popular among mountain climbers and campers; it is the major tourist attraction of the municipality.[2][3] Every year on Holy Week, thousands of pilgrims from nearby towns and provinces climb the mountain as a form of penance.
4.2. Fortune Island
4.2.1. Fortune Island is a resort island in Batangas province in the Philippines. The 27-hectare island lies about 14 kilometers off the coast of Nasugbu in Batangas. Fortune Island is located Nasugbu in Batangas. It used to be a private island harboring an exclusive luxury resort. But it is difficult and costly to maintain a luxury resort without a ready source of fresh water. One cannot drink luxury. Consequently, it ceased its operations in 2006. One remarkable reminder of its grandeur stands atop the island's limestone cliff overlooking the sea – an acropolis with Grecian pillars and statues. It was a rough yet thrilling boat ride. The waves were strong and unforgiving, but our boatmen managed to bring us to the island safely. Approaching the island, the Grecian ruins proudly greeted us. Our boat docked at the cliff diving area instead of the beach to prevent the boat from damaging the corals and vice versa. At Fortune Island, you have two options: shallow but rough water or calm but deep water. If you choose the former, head over to the beach and tumble with the waves. If you choose the latter, brave your way to the cliff diving point and plunge into the relaxing clear blue water. Or why choose when you can do both?
5. Cavite
5.1. Freedom Park
5.1.1. In the Philippines, a freedom park is a centrally located public space where political gatherings, rallies and demonstrations may be held without the need of prior permission from government authorities. Similar to free speech zones in the United States, the existence of freedom parks are based on the premise that the government may regulate the time, place and manner of assemblies, without prejudice to the nature of expression being expressed in those assemblies. These spaces, of which every city and municipality is required to have at least one space designated as such, were created as a result of Reyes v. Bagatsing, a 1983 case heard by the Supreme Court of the Philippines where it was decided that there is no legal impediment to holding a rally in a public venue, which in this case was Rizal Park. This led to the enactment of Batas Pambansa Blg. 880, the Public Assembly Act of 1985, which codified the Reyes decision. Despite the Public Assembly Act of 1985 requiring that all cities and municipalities have freedom parks, until 2006 only one freedom park was legally designated in the entire country: the Fuente Osmeña Rotonda in downtown Cebu City, according to testimony provided by Alfredo Benipayo, then Solicitor General of the Philippines, in Bayan v. Ermita.[1] In its decision of the case, promulgated on April 26, 2006, the Supreme Court stipulated that in the absence of a freedom park in a particular city or municipality, all public spaces in that particular locality shall be open for the use of the public to peacefully assemble at, with the only requirement for doing such being prior notice given to the local mayor.[4] Most localities established freedom parks after Bayan v. Ermita was heard by the Supreme Court, following an order wherein all cities and municipalities were to establish freedom parks within thirty days of the decision's promulgation.
5.2. Puzzle Mansion
5.2.1. The building occupied by the Puzzle Mansion started as a rest house for the family of puzzle collector, Georgina Gil-Lacuna and also as a private display site for Gil-Lacuna's finished puzzles.[1] The concept for the museum was first made in 2011 by puzzle collector Georgina Gil-Lacuna and her son Gino Orda who were concerned on where to store the puzzle collection of Gil-Lacuna. They learned through the internet that the biggest recognized collector of puzzles was a woman from Brazil who has over 230 puzzles. Gil-Lacuna at that time had 800 puzzles.[2] In November 19, 2012 she was proclaimed by Guinness to be the new holder of the feat, with 1,030 puzzles finished at the time of the proclamation.[3] The museum opened to the public in 2012.[1] Aside from a museum the place was also made into a bed-and-breakfast place.[2] In October 2014, it was reported that the museum hosts about 1,500 puzzles.[4]