CAUSES OF WW1
by Hannah Reardon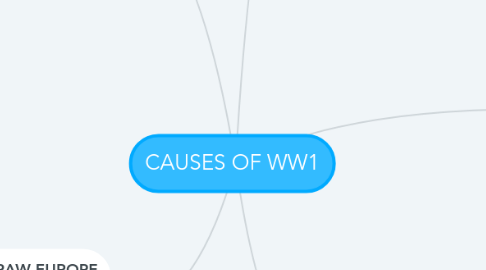 1. MILITARISM
1.1. European nations began to build up their military arsenals.
1.2. Competitive "arms race" led to a dangerous build up of weapons. In addition, advances in technology led more powerful and deadlier weapons.
1.3. Example: Germany's competition with Britain, who had the largest navy, and Russia, with the largest army.
2. IMPERIALISM
2.1. Britain's empire stretched over one-quarter of the globes land mass.
2.2. Other European countries, like Germany, wanted to control more lands and resources.
2.3. Friction between the nations, especially Britain and Germany, grew strong as competition for territory increased.
3. NATIONALISM
3.1. Led some Europeans to want to be united with others as the same ethnic backgroud.
3.2. Example: Austria-Hungary was home to 50 million Austrians, Hungarians, Bosnians, Ukrainians, Serbs, and other groups. Many of the groups wanted their own independent countries.
3.3. Example: Serbs living in Bosnia and Herzegovina, which was part of Austria-Hungary at this time, wanted liberation from Austrian control and to become part of Serbia. Many Serbian agrees. At the same time, Serbia feared being taken over by Austria-Hungary.
4. MILITARY ALLIANCES
4.1. Members of a military alliance promise one another mutual military support if attacked by another country.
4.2. The network of military alliances established a system in which even a small conflict could spread throughout the continent and beyond.
4.3. Example: There were two major military alliances in Europe in 1914: the Triple Entente, or Allies, which included Britain, Russia, and France, and the Triple Alliance, or Central Powers, which included Italy, Austria-Hungary, and Germany.
5. ALLIANCES DRAW EUROPE INTO WAR
5.1. In 1914, this volatile mix of suspicion and competition ignited into an all-out war.
5.2. On June 28, 1914, a radical Serbian nationalist shot and killed the Archduke of Austria-Hungary, Franz Ferdinand, and his wife, Duchess Sophia. In response, Austria-Hungary made several demands of Serbia. When Serbia did not agree to all the demands, Austria-Hungary declared war on Serbia on August 1st. Due to it's military alliance, Russia came to defend Serbia, it's ally. Germany, Austria-Hungary's ally, declared war of Russia and then on France. En route to attack France, Germany invaded neutral Belgium. Britain had an agreement to assist Belgium if ever it was attacked, and France was Britain's ally, so Britain declared war on Germany on August 4th. Canada, as he member of the British Empire, was automatically at war.