COMM 101 Persuasive topic: template
by Gary Daniel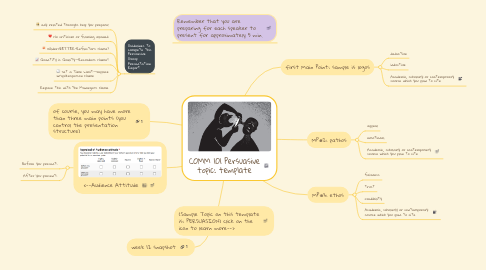 1. week 12 snapshot
2. MP#3: ethos
2.1. fairness
2.2. trust
2.3. credibility
2.4. Academic, scholarly or contemporary source which you plan to cite
3. MP#2: pathos
3.1. appeal
3.2. emotional
3.3. Academic, scholarly or contemporary source which you plan to cite
4. Guidelines to complete this Persuasive Group Presentation Report
4.1. any related throughs help you prepare!
4.2. No criticism or flaming allowed
4.3. Wilder=BETTER-Reflector's Name?
4.4. Quantity is Quality--Recorders Name?
4.5. Set a Time Limit--replace w/Spokesperson Name
4.6. Replace this with the Manager's Name
5. first Main Point: sample is logos
5.1. deductive
5.2. inductive
5.3. Academic, scholarly or contemporary source which you plan to cite
6. of course, you may have more than three main points (you control the presentation structure)
7. <--Audience Attitude
7.1. Before you present:
7.2. After you present:
8. (Sample Topic on this template is: PERSUASION) click on the icon to learn more-->
9. Remember that you are preparing for each speaker to present for approximately 5 min.