My First Mind Map
by John Faux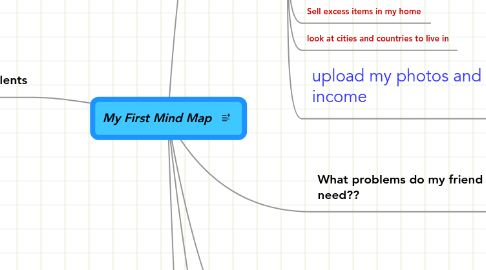 1. My talents
1.1. Good looks
1.2. English accent
1.3. Engineering skill set
1.4. General Knowledge
1.5. PC knowledge
1.6. Electronics know-how
1.7. People skills
1.8. writing
2. Goals
2.1. Start a passive income stream. PICK A HUGE market -then build ALL sites and articlesaround that SAME HUGE MARKET -backlinks is what makes this work
2.1.1. A Niche site with affiliate links
2.1.1.1. Must do keyword research first
2.1.1.1.1. Software downloads
2.1.1.1.2. From master keyword look at catagory keyword -use catagory keywords for site meno lables and toc
2.1.1.1.3. Music downloads
2.1.1.1.4. video
2.1.1.1.5. eBooks
2.1.1.1.6. Membership sites
2.1.1.1.7. New node
2.1.2. An Authority site with affiliate, podcast and my own products
2.1.2.1. Must do keyword research first
2.1.2.1.1. A weather site -all things weather -articles links and so forth
2.1.3. Develop my own product
2.1.3.1. Downloadable
2.1.3.2. An Android App
2.1.4. Clickbank
2.1.4.1. Become an affilate and a vendor -cross post both wasy to sell my stuff and to promote others stuff
2.1.4.2. New node
2.2. Sell excess items in my home
2.3. look at cities and countries to live in
2.4. upload my photos and sell them online -passive income
3. Get started!
3.1. Find out more?
3.1.1. Online Help
3.1.2. Use Cases & Templates
3.1.2.1. Personal Todo List
3.1.2.2. Vacation Planning
3.1.2.3. Meeting Minutes
3.1.2.4. Project Plan
3.1.2.5. more...
3.1.3. Tools and Gadgets
3.1.3.1. Offline Mode
3.1.3.2. Geistesblitz Tools
3.1.3.3. Email & SMS Gateways
3.1.3.4. Compare Editions
4. Googel rules
4.1. Google's representative went on to list the following as questions that one could use to assess the quality of an article or a page: * Would you trust the information presented in this article? * Is this article written by an expert or enthusiast who knows the topic well, or is it more shallow in nature? * Does the site have duplicate, overlapping, or redundant articles on the same or similar topics with slightly different keyword variations? * Would you be comfortable giving your credit card information to this site? * Does this article have spelling, stylistic, or factual errors? * Are the topics driven by genuine interests of readers of the site, or does the site generate content by attempting to guess what might rank well in search engines? * Does the article provide original content or information, original reporting, original research, or original analysis? * Does the page provide substantial value when compared to other pages in search results? * How much quality control is done on content? * Does the article describe both sides of a story? * Is the site a recognized authority on its topic? * Is the content mass-produced by or outsourced to a large number of creators, or spread across a large network of sites, so that individual pages or sites don't get as much attention or care? * Was the article edited well, or does it appear sloppy or hastily produced? * For a health related query, would you trust information from this site? * Would you recognize this site as an authoritative source when mentioned by name? * Does this article provide a complete or comprehensive description of the topic? * Does this article contain insightful analysis or interesting information that is beyond obvious? * Is this the sort of page you'd want to bookmark, share with a friend, or recommend? * Does this article have an excessive amount of ads that distract from or interfere with the main content? * Would you expect to see this article in a printed magazine, encyclopedia or book? * Are the articles short, unsubstantial, or otherwise lacking in helpful specifics? * Are the pages produced with great care and attention to detail vs. less attention to detail? * Would users complain when they see pages from this site?
5. My idea/inventions
5.1. The Bath
5.2. New node
5.3. Day glo bubbles
6. What problems do my friend need??
6.1. security issues on rentals
6.2. procrastination
6.3. Renting verses buying a home