Computer Input/Output Devices
by Jaffee Eichelberger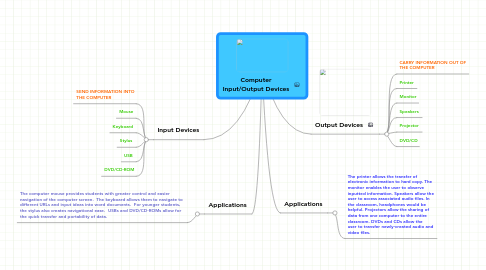 1. Applications
1.1. The computer mouse provides students with greater control and easier navigation of the computer screen. The keyboard allows them to navigate to different URLs and input ideas into word documents. For younger students, the stylus also creates navigational ease. USBs and DVD/CD-ROMs allow for the quick transfer and portability of data.
2. Input Devices
2.1. SEND INFORMATION INTO THE COMPUTER
2.2. Mouse
2.3. Keyboard
2.4. Stylus
2.5. USB
2.6. DVD/CD-ROM
3. Applications
3.1. The printer allows the transfer of electronic information to hard copy. The monitor enables the user to observe inputted information. Speakers allow the user to access associated audio files. In the classroom, headphones would be helpful. Projectors allow the sharing of data from one computer to the entire classroom. DVDs and CDs allow the user to transfer newly-created audio and video files.
4. Output Devices
4.1. CARRY INFORMATION OUT OF THE COMPUTER
4.2. Printer
4.3. Monitor
4.4. Speakers
4.5. Projector
4.6. DVD/CD