Direct Mail and Marketing Strategy
by Maddison Lake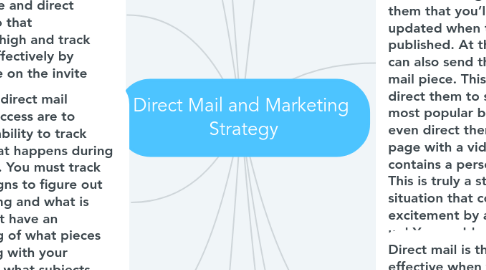 1. Seventy eight percent of consumers have unsubscribed from a companies email list because they receive too many emails. Email marketing has become so overcrowded that people don't want to take it anymore. Direct mail could be the big difference in getting your message out into the world, responded to and a deal made. Your main objective is to route the receiver to your website where you can nurture them as a customer. Any piece of mail you send will direct them throughout the process to a landing page or a code they can enter on your website. The more information you have about what kinds of offers they respond to, the better you can speak to their specific needs.
2. First, you need to make the content on your direct mail piece speak to the individual. That means that you will have to divide your mailing list into sections signifying what stage the person is in for buying your product or service. This will allow you to send at the right time with your direct mail. You need to maintain an awareness of your prospects' stage in the buyer's cycle. This gives you a lead above your competitors because you understand their process.
3. When a lead has been with you a bit and is familiar with your brand, you could put on an event and invite them with an invitation designed direct mail. Advertise and direct mail heavily so that attendance is high and track your efforts effectively by putting a code on the invite that motivates invitees to register online.
4. The keys to a direct mail campaign's success are to focus on the ability to track everything that happens during the campaign. You must track these campaigns to figure out what is working and what is not. You won't have an understanding of what pieces are resonating with your prospects nor what subjects they're actually interested in without this tracking.
5. You must have a very clear Call To Action per each piece of direct mail. It has to stand out and be very obvious to the reader.
6. Great direct mail campaigns have the ability to capture a recipient's attention, get them to read and process content, commit to the message, then execute a specific call to action. This is where your personalized message comes in. Whatever the message is, it's absolutely crucial to get your point across and not try to hide it but rather blast it out to your audience! Your message most certainly has appeal and the more efficiently you articulate it and showcase it the better and larger your Return on Investment will be. Also, you want to make sure you have the right kind of clientele contacting you. Think of your marketing piece an upfront filter for yourself to weed types of clients out that you are not interested in doing business with. We at Everest Direct Mail and Marketing, will help you customize and send marketing materials that are written and designed to connect with today's consumer. We use high quality printing to create new business opportunities or print full color property flyers to promote your listings at home. We will send drip email, direct mail or Multi Channel campaigns.
7. First, you must identify your audience. In the beginning of a marketing campaign, you should be focused on your prospects preferences and needs. Your campaign should stand out to people who are most likely to buy your product or service. Inbound is all about meeting prospective customers where they are. Consider what you receive in your own mailbox and what you keep and what you throw away. Those pieces of mail that ended up in the trash bin more than likely weren't relevant to your needs. This is what you have to consider with your own prospects. What are their needs and how can you meet them?
8. There are several creative ways for you to incorporate your direct mail to send to the right person at the right time. Do you have a blog on your website? You should! Not only does it help your SEO but it is a way to get subscribers who are your guideposts to what people want. When a subscriber signs up to receive your blog, you normally send them an email, thanking them for subscribing and assuring them that you'll keep them updated when the next blog is published. At this time, you can also send them a direct mail piece. This piece could direct them to some of your most popular blogs. You could even direct them to a landing page with a video that contains a personal message. This is truly a standout situation that confirms their excitement by a simple sign up! You could also provide them with a case study from a business similar to theirs and include compelling stats. The key is to help educate them on how to address whatever problems they're trying to solve.
9. Direct mail is the most effective when you are targeting a specific location, age group, or household income level. This is your where your customers are. If your direct mail campaign is on a local level, generate buzz in your community by sending out a visually exciting piece that neighbors are all discussing with each other.
10. Next, your campaigns must be visual. People really don't want to read an encyclopedia to get the information they are looking for. Incredible pictures or art always sparks the recipient's interest in your mailing piece.
11. Then, whatever piece you send out, needs to come back to everything you have online. The only way you will know how your direct mail is influencing your bottom line is to track everything. Each piece of direct mail should have a unique code on it somewhere readable. Make your prospectsgo to landing pages that track their tour and triggers the next steps in your sales process. This allows you to make sure that you are setting yourself up to show the effectiveness of your campaign.