Women Who Made a Difference
by
Roisin Curtin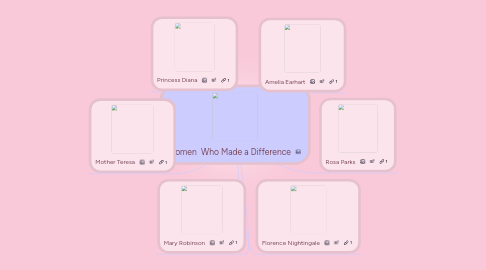 0.0
stars - reviews range from
0
to
5
Women Who Made a Difference
Rosa Parks was born in Montgomery, Alabama, in the United States of America. In the 1950's, clack people in America were not allowed to use the same cinemas, libraries, schools or restaurants as the white people. This was a terrible insult to the black population and upset them greatly. On December 1st 1955, Rosa Parks was tired after a day's working as a seamstress in Montgomery. She boarded a public bus and sat on the first available seat at the front of the bus. At that time, the front seats were reserved for white people only. When the bus driver ordered Rosa to go to the back of the bus to make room for a white man, she refused to move. She said that she was tired of being treated as a second-class citizen. She was arrested, tried and convicted of disorderly conduct. For the next year, black people in Montgomery boycotted all buses. The bus company was close to going out of business. The boycott lasted for 382 days. In the end, the American Supreme Court ruled that segregation on buses was illegal. This was the start of the "Civil Rights Movement" in America. Rosa has been called 'Mother of the Civil Rights Movement'. Her quiet courageous act changed the course of history in America. It is said that she made a stand actually sitting down. She died in October 2005 at the age of 92 years.
Florence Nightingale was born into a wealthy family in 1820. When she was young, she read every book she could find on nursing, much to the annoyance of her parents. Her parents did not want her to work in hospitals. At that time, hospitals were considered to be very dirty places, full of poor people waiting to be treated for various illnesses and diseases. Florence loved to visit hospitals and visit the sick. She went to Germany to study nursing and then returned to England and got a job running a hospital in London. During the Crimean War (1853 - 1856), she went to the battlefield with 38 other nurses. The wounded soldiers were given little care at that time. They were often left in filthy conditions. Florence was determined to change all that. She got the old barracks hospital cleaned up. As she walked the dark corridors of the hospital at night visiting the sick soldiers, she always carried a lamp. She became known as the 'lady with the lamp'. Her work saved thousands of people. As she grew older, people came to her from all over the world for advice on hospitals and nursing. She died in 1910
Diana Francis Spencer, was born on Jul 1, 1961, at Park House near Sandringham, Norfolk. She was the youngest daughter of the then Viscount and Viscountess Althorp, now the late Earl Spencer and the Hon Mrs Shand-Kydd. She had two elder sisters, Jane and Sarah, and a younger brother, Charles. LAdy Diana was sent to boarding school, eventually attending West Heath Public School in Kent. Here she excelled in sport, particularly swimming, but she failed her O levels. Nevertheless, in later years she recalled fond school-day memories, and supported her old school. After school, she worked in London, first as a nanny, occasionally a cook and then as an assistant at the Young England Kindergarten in Knightsbridge. Rumours spread that Diana's friendship with the Prince of Wales was blossoming into something more serious. Press and TV besieged her at every turn. But her days at work were numbered. The Palace tried in vain to play down the speculation. On February 24th 1981, the engagement became official when Charles and Diana wed in St.Paul's Cathedral, London. Princess Diana went on to have two sons, Prince William in 1982 and Prince Harry in 1984. Unfortunately Prince Charles and Princess Diana's marriage was not to last and in December 1992, it was officially announced that Charles and Diana would separate. Throughout her life, Diana did a lot of work to raise money for charity. She was famously photographed walking across a minefield in Angola as part of a campaign to end the use of landmines. She also did lots of work with HIV and Aids patients and orphans. In 1987, she was pictures holding the hand of an Aids patient at a time when the disease was not very well understood. On August 31st 1997, Diana, Princess of Wales, died as a result of injuries sustained in a car accident in the Pont de l'Alma road tunnel in Paris, France. After her death, a special fund called the Diana, Princess of Wales Memorial Fund was set up and so far has raised more then £100 million for charities.
Mother Teresa was born in Macedonia in 1910. At 18 years of age, she left home and moved to Dublin to join a community of Irish Loreto nuns. This community had a mission in Calcutta. When she finished her training as a nun, she travelled to India and taught for for 18 years in a school in Calcutta. Walking through the slums in Calcutta on her way to school each day, she saw the terrible poverty of the homeless people, both children and adult. She realised that they were hungry and cold.They often lay dying on the street with no one to care for them. After 18 years of teaching, she decided to work and live among the poor of Calcutta. She started an open-air school in one of the worst slum areas of the city. She was given an old house and she brought the homeless who were starving and dying there, to give them a little comfort. By 1950, she had started her own order of nuns called the 'Missionaries of Charity'. Their main work was to look after and care for people who had been forgotten by others. In 1979, Mother Teresa was awarded the Nobel Peace Prize for her work. She died in 1997.
Mary Robinson was born in Ballina, Co.Mayo, in 1944. She studied to be a lawyer and became a professor of law when she was still only in her twenties! In 1969, she was elected to the Seanad, or Senate, as a Senator. In 1990, she became the first female President of Ireland. She brought great legal knowledge and much political experience to the presidency. She often spoke about Irish emigrants and people of Irish decent who now lived far away from Ireland. She placed a special candle in the window in Áras an Uachtaráin, the home of the president, which everyone could see. This candle reminded people pf the Irish emigrants around the world who had to leave Ireland to find work. She became the first Irish President to visit Queen Elizabeth at Buckingham Palace in London. She was President for seven years. She then decided to work for thr United Nations as the High Commissioner for the Human Rights. In 2002, she was awarded the Sydney Peace Prize for her outstanding work for human rights.
Amelia Earhart was born near Kansas in 1897. She became one of the most famous aviators in the world. In 1920, while working as a nurse in Canada, she visited her parents who were living in Los Angelas. While there, her father arranged a ten minute flight for her. This flight changed her life forever. The following year, at the age of 24, she took her first flying lesson. A year later she had saved enough money to buy her first plane which she named 'The Canaray'. In 1928, she was a co-pilot with William Stultx when they flew across the Atlantic Ocean. This made her the first woman to cross the Atlantic Ocean. In 1932, she became the first woman to fly solo across the Atlantic Ocean. In 1937, she decided to attempt a flight around the world. Along with her navigator, Fred Noonan, she set off on the long and dangerous flight. She decided to fly around the world at its widest point, along the equator. After a few stops, they landed in New Guinea. This left them with a flight of about 4,000km from New Guinea to the small Howland Island in the Pacific Ocean. After 22 hours of continuous flying, Amelia sent out her last message to Howland Island: '...we must be on you...but we cannot see you...gas is running low'. She never reached Howland Island and, sadly, was never seen again. The disappearance of Amelia Earhart, Fred Noonan and their plane remains a mystery to this day.