Effective Phonemic Instruction - Module 8 Response
by
Kerri Zitar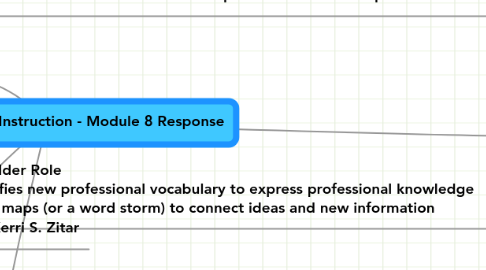 0.0
stars -
0
reviews range from
0
to
5
Effective Phonemic Instruction - Module 8 Response
Vocabulary Builder Role This role identifies new professional vocabulary to express professional knowledge Builds concept maps (or a word storm) to connect ideas and new information
by Kerri S. Zitar
Sounds Like...
phoneme isolation -focus children's attention on individual phonemes (the smallest units of sound) that make up words
phoneme blending - children combine individual sounds to form words
phoneme segmenting - the opposite of phoneme blending. Children deconstruct words into individual sounds
phoneme manipulation - most advanced form of phonemic awareness
Phonemic awareness is the awareness that spoken words are composed of individual sounds/phonemes
Looks Like..
Whole group direct instruction
Small group direct instruction
Individual direct instruction
Literacy based play
Whole group games
Feels Like...
Children feel safe in order to explore new situations
Child directed activities
Teacher directed activities
Fun
Excitement about learning
Adventure
Pride - children feel a sense of pride and ownership over their knowledge
Lots of discussion
Lots of movement