Hackathon
by Lina Shishkina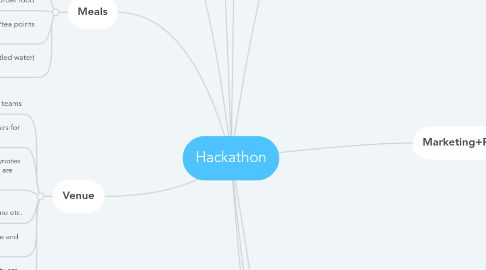 1. Meals
1.1. Define food provider (make sure they have menu which covered most of food preferences)
1.2. Order food
1.3. Organize comfortable coffee/tea points with snacks
1.4. Place water cooler (or bottled water) everywhere :)
2. Budgeting
2.1. We KNOW amount of money we can spend
2.2. Create budget model (Fixed charges+Dynamic expenses per participant)
2.3. Will we pay some fee to mentors?
3. Registration
3.1. Create registration wizard (don't forget to asl about food preferences)
3.2. Do we need group registrations?
3.3. Export attendees data
4. THE DAY OF HACKATHON
4.1. Registration zone is working fast
4.1.1. lanyard+badge
4.1.2. notebook+pen
4.1.3. venue map
4.2. Meet photographer
4.3. Meet water
4.4. Meet partners?
4.5. Meet food (twice?)
4.6. Opening words
4.7. Strong timing
4.8. Closing and gifts
5. Venue
5.1. Book all needed meeting rooms for teams
5.2. Organize resting zones with bag chairs for example (rent bags if needed)
5.3. Flipcharts and whiteboards + stickynotes and markers for teams brainstorms are needed
5.4. Print and place pointers for WC/Coffee/Kitchen/smoking zone etc.
5.5. Make sure internet is easy reachable and work good
5.6. Make sure cleaning service and security are informed and ready to support 24 hours event
6. Mentors
6.1. Define mentors (nice to have multidisciplinarity mentors team)
6.2. Describe their roles and responsibilities
6.3. Check with mentors schedule and hackathon milestones so that they really know when they must be available for teams
6.4. Make sure mentors are all agree on hackathon goal
7. Vision
7.1. Get clear goal for the hackathon
7.2. Slogan or motto
7.3. Number of attendees we are happy with?
7.4. Do we need some branding? Designed images?
7.5. Create draft schedule
8. Marketing+PR
8.1. Create landing page/Website (it's good for SEO, sharing, fast registration)
8.2. Create Facebook event
8.3. Post to FB event hot news constantly
8.4. Create FB ads
8.5. Create event at Meetup
8.6. Ask "community leaders" to share news about hackathon
8.7. Post articles to community groups (additional research for relevant groups is needed)
8.8. Place event at open and paid platforms (DOU, AIN e.g.)
8.9. Ask internal tech leaders to help creating buzz around upcoming hackathon
8.10. Find media partners and place announcements
8.11. Braindstorm gift ideas
8.12. Order gifts
8.13. Order notebook and pen for each participant (branded?)
8.14. Order lanyards
8.15. Create and print badges
8.16. Do we need branded t-shirts for org team and staff?
8.17. Book photographer
8.18. something else what i'm missing right now...
9. Partnership
9.1. Do we need juice/mineral water/energy drinks/chocolate partners?
10. We are done-done when
10.1. Bills are paid
10.2. Post-release is written and posted
10.3. Photos are posted
10.4. etc.