CONTEXTUALIZE ONLINE SEARCH AND RESEARCH SKILLS
by Jessica medallada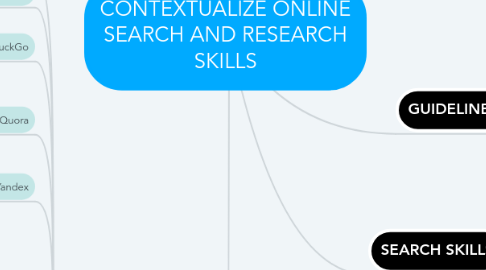 1. SEARCH ENGINE
1.1. Google
1.1.1. most popular search engine
1.2. BING
1.2.1. second popular search engine
1.3. DuckDuckGo
1.3.1. emphasizes protecting searchers' privacy and avoiding the filter bubble of personalized search results
1.4. Quora
1.4.1. a question-and-answer site where questions are asked, answered, edited, and organized by its community of users.
1.5. Yandex
1.5.1. is a multinational corporation specializing in Internet-related services and products.
1.6. Dogpile
1.6.1. Dogpile is a metasearch engine for information on the World Wide Web that fetches results from Google, Yahoo!, and Yandex, and includes results from several other popular search engines, including those from audio and video content providers
1.7. Ask.com
1.7.1. Image result for define ask.com Ask.com (originally known as Ask Jeeves) is a question answering-focused e-business and web search engine
1.8. WolframAlpha
1.8.1. Wolfram Alpha is a computational knowledge engine or answer engine developed by Wolfram Alpha LLC, a subsidiary of Wolfram Research.
1.9. Vimeo
1.9.1. Vimeo is a video-sharing website in which users can upload, share and view videos.
1.10. Board Reader
1.11. Slideshare
1.11.1. LinkedIn SlideShare is a hosting service for professional content including presentations, infographics, documents, and videos.
1.12. Creative Common Search
1.13. Giphy
1.13.1. Giphy is an online database and search engine that allows users to search for and share animated GIF files
1.14. Addict-o-matic
2. SEARCH SKILLS
2.1. Find hidden calculator
2.2. Tilt
3. GUIDELINE in SEARCHING
3.1. Capitalization doesnt matter