AUDIT DOCUMENTATION
by Nurul Syahirah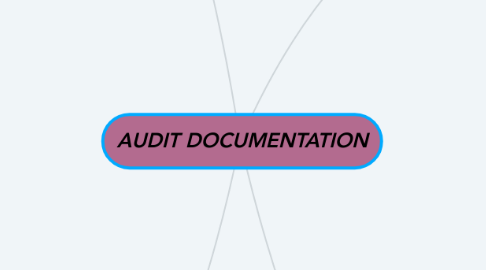 1. 1.2 AUDIT PROGRAMME
1.1. DEFINE
1.1.1. an action plan that documents what procedures an auditor will follow to validate that an organization is in conformance with compliance regulations
1.1.2. called an audit plan
1.2. SAMPLE OF AUDIT PROGRAMME
1.2.1. Client
1.2.2. Year/ Period End
1.2.3. Prepared by & Date
1.2.4. Reviewed by & Date
1.3. DISADVANTAGES
1.3.1. Not comprehensive
1.3.2. Too mechanical
1.3.3. Not suitable for small audit
1.3.4. Not initiative
1.4. ADVANTAGES
1.4.1. Supervision of work
1.4.2. Distribution of work
1.4.3. Uniformity of work
1.4.4. Basic instrument for training
1.4.5. Legal evidence
2. 1.3 AUDIT WORKING PAPER
2.1. PURPOSE
2.1.1. Assist in the planning and performance of the audit.
2.1.2. Assist in the supervision and review of audit work.
2.1.3. Record the audit evidence resulting from the audit work performed to support the auditors opinion.
2.2. FUNCTION / IMPORTANCE
2.2.1. Quality control
2.2.1.1. purposes in respect of the audit
2.2.2. Assurance
2.2.2.1. the work delegated by the audit partners has been properly completed
2.2.3. Evidence
2.2.3.1. effective audit has been carried out
2.2.4. Future Audits
2.2.4.1. retain a record of matters of continuing significance to future audits
2.3. CONTENT
2.3.1. The name of client
2.3.2. Period
2.3.3. Subject matter
2.3.4. File reference
2.3.5. Signiture of the staff
2.4. FORMAT/SYMBOL
2.4.1. - Checked
2.4.2. - to be continue
2.4.3. - checked again
3. 1.4 AUDIT FILES
3.1. DEFINITION
3.1.1. Designed to perform audits of your upload directory and the corresponding database records.
3.2. TYPES OF AUDIT FILE
3.2.1. i) Permanent Audit File
3.2.1.1. Documents which continually refer over number of years.
3.2.2. ii) Current Audit File
3.2.2.1. Containing all working papers relevant to the year under audit.
3.2.3. iii) Correspondence Audit File
3.2.3.1. Containing all correspondance with the client.
3.3. TICK MARK SYMBOL
3.3.1. - Agreed face amount, interest rate, issue and maturity dates to note receivable document.
3.3.2. - Positive conformation received.
3.3.3. f - Footed.
3.3.4. @ - Recalculated accrued interest. No expectations noted.
3.3.5. t/b - Tracked and agreed to trial balance.
4. 1.1 AUDIT DOCUMENTATION
4.1. DEFINE
4.1.1. The principal record of auditing procedures applied, evidence obtained, and conclusions reached by the auditorin the engagement.
4.2. PURPOSE
4.2.1. to provide a clear understanding of its purpose, source, and the conclusions reached.
4.3. CONTENT
4.3.1. The nature, timing and extend of audit procedures performed.
4.3.2. The results of the audit procedures performed.
4.3.3. Professional judgements made in reaching the conclusions.