Web 2.0 Tools Mind Map
by mike stein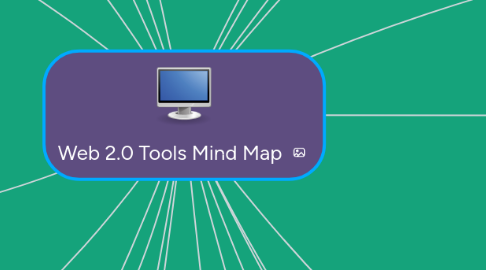 1. Tools for Collaboration
1.1. Realtime Board: Realtime Board is web-based whiteboard that allows multiple users the ability to contribute in real time. The program is intuitive and requires minimal training before use. Educators are given free access to a customized account after filing an application for an education account. This tool has the potential to transform classroom instruction especially in a 1 to 1 classroom environment.
1.2. Google Docs: Google docs is a web-based word processor that can be used for collaboration. Multiple students are able to view and edit the same document in real-time. This is a free program that requires a Google account.
1.3. Skype: Skype is a web-based tool that allows users to connect through voice, video, and chat conversations. Skype can be used to help students collaborate with people outside of the classroom. Skype calls can be made anywhere in the world. This helps to expand the learning environment outside the four walls of the classroom. Skype does require an account, but it is free to use.
2. Tools for Instruction
2.1. Prezi: Prezi is a presentation tool that can be used to create dynamic presentations that engages students. Presentations have the ability to contain images, videos, and text. There are both paid and free versions of the program. The free version is quite limited in terms of storage, so it may require a subscription if used as a primary instruction tool.
2.2. Doceri: Doceri is an instructional support tool that allows the teacher to have remote access of their computer through the use of an iPad. The intuitive program allows you to advance slides with a simple touch on the screen as well as annotate on anything shown on the screen. This tool is powerful in the fact that the teacher can now present from anywhere in the room. Doceri can also be used to record screencasts that can be shared with students as support resources.
2.3. Nearpod: Nearpod is a web-based program that allows the presenter the ability to control the information being shown on a student's device. Nearpod presentations are similar to PowerPoints in appearance, but they can do so much more. In addition to showing slides of information, Nearpod presentations can have videos, quizzes, polls, and short answer surveys. Nearpod requires an account and has both free and paid versions.
3. Tools for Creation
3.1. Google Drawings: Google Drawings allows students the ability to create a wide variety of projects. Google drawings can be used to create virtual manipulatives or interactive infographics. Drawings created have the ability to be shared and collaborated on. Google Drawings is free program, but it does require a Google account in order to use it.
3.2. WeVideo: WeVideo is an online video editor that allows students the ability to create multimedia presentations that include video, images, sounds, music, text, transitions and more. The program is web-based and allows for collaborative projects. The program does have a free version, but it is recommended to get a paid subscription to best use the resources.
3.3. Powtoon: Powtoon is a web-based program that students can use to create engaging presentations that resemble animated videos. The program is easy to use and has limitless possibilities in terms of its usefulness. You can use Powtoon for free, but a paid account will give you access to more features including more resources and longer presentation length.
4. Tools for Resources
4.1. Google Drive: Google Drive is a web-based cloud storage. This tool gives the students the ability to store files and other resources that are available on any web enabled device. This can be particularly powerful if you are in a district that has shared devices.
4.2. Evernote: Evernote is a web-based program that allows users the ability to create a digital notebook of any resource they access. Webpages, videos, images, and text can be added to create a truly personalized resource. Notebooks can be shared with others to allow for collaboration of resources.
4.3. LiveBinders: LiveBinders is a web-based program that allows teachers and students to create a variety of digital resources. Livebinders can be used to make a customized textbook or eportfolio. LiveBinders does require an account to use the service, but it is free to use.
5. Pinterest: With Pinterest, teachers can organize and share anything from lesson plans, ideas, and crafts using a virtual bulletin board. Teachers can also use this tool to network with other educators.
6. Twitter is a service for friends, family, and co–workers to communicate and stay connected through the exchange of answers that can be no longer than 140 characters and spaces per post. Use this tool to help your students stay up-to-date, as you could advertise a Twitter address that students could use to learn about school projects, reading assignments, and other announcements. You can also use this tool as a bookmark manager for research.
7. CuePrompter: This free service allows teachers to use their browser as a teleprompter. All users have to do is write or cut and paste their script online and press a button to start the prompter.
8. Online Stopwatch: Just as the name suggests, this tool is a web-based stopwatch teachers can use for timed exams and other assignments.
9. Slideshare: Ok, so you're still with PowerPoint, but you can jazz that presentation up at Slideshare. This site takes your .ppt file (also works with Open Office and PDF files) so you can share it with your students (and the world at large). You can add music, embed videos in comments and more – all for free.
10. Teacher Planet is a one-stop spot for teacher resources. Teachers can download any number of lesson plan templates, worksheets, ESL-specific resources, and other tools
11. Poster4Teachers:This free tool allows educators to create a lesson, worksheet, or class page and immediately publish it online.
12. Yugma: Teachers can use the free web conferencing feature with Yugma and also share their entire desktop in real-time with one student. This can be extremely helpful in one-on-one advising with students.
13. Curriki: As a free resource, teachers can create and share their best curriculum and teaching practices, and mix and match lesson plans, videos, animations, and photos to create custom teaching tools.
14. OpenText: Using a personalized Web page as a communication hub, teachers can send messages to the principal, pick up student assignments, change homework tasks for that evening, or have students build their own Web pages. FirstClass will run on a single server with one administrator for any number of users. This tool is not free.
15. Schoology: Teachers can use this tool to share their instructional resources and connect with other educators.
16. Noteflight Students can use the cloud-based Noteflight application to write and share music online. Kids put musical skills into practice as they create original compositions. They can change songs in a variety of ways, including transposing them or changing the time signature, and hear the outcome.
17. Faces iMake - Right Brain Creativity is a highly engaging brain-building tool that encourages kids to think differently as they make collage faces out of everyday objects. Although it's ostensibly an art app, the gentle challenge to and encouragement of creative thinking crosses over into generalized learning.
18. Sketchbook Pro is a full-featured app with an arsenal of tools for creating digital art, offering tools available in the desktop version with the ease of a sketchbook on an iPad or other tablet. Teens can choose brushes and colors, draw using mirror image, move and rotate and arrange objects, and work with layers.
19. Google Art Project amasses more than 30,000 great works from real-world collections and presents them in virtual galleries. Kids can search art by museum collection or artist and can browse artists and artworks alphabetically or by user-curated collections.
20. Basecamp: Projects don't fail from a lack of charts, graphs, stats, or reports, they fail from a lack of clear communication. Basecamp solves this problem by providing tools tailored to improve the communication between people working together on a project.
21. Twiddla: Twiddla is a great way to connect with students or other educators. Through its web-conferencing capabilities, teachers can brainstorm and share ideas.
22. dotsub: This tool will be helpful for teachers of foreign languages. For a fee, dotsub will translate videos using subtitles and students and teachers can upload their own videos and create subtitles.
23. LAMS (Learning Activity Management System) provides teachers with a highly intuitive visual authoring environment for creating sequences of learning activities. These activities can include a range of individual tasks, small group work, and whole class activities based on both content and collaboration.