7 Functions of Marketing for Audi
by David Hilmes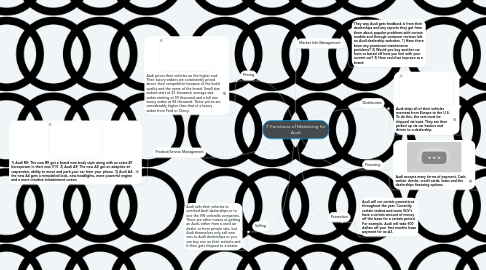 1. Selling
1.1. Audi sells their vehicles to certified Audi dealerships or to one the VW umbrella companies. There are other means of getting an Audi, either from a used car dealer or from private sale, but Audi themselves only sell new cars to Audi dealerships or you can buy one on their website and it then gets shipped to a dealer.
2. Product/Service Management
2.1. 1) Audi R8- The new R8 got a brand new body style along with an extra 40 horsepower in their new V10 2) Audi A8- The new A8 got an adaptive air suspension, ability to move and park your car from your phone 3) Audi A4- the new A4 gets a remodeled look, new headlights, more powerful engine and a more intuitive infotainment screen
3. Pricing
3.1. Audi prices their vehicles on the higher end. Their luxury sedans are consistently priced above their competition because of the build quality and the name of the brand. Small size sedans start at 32 thousand, average size sedan starting at 50 thousand and a full size luxury sedan at 84 thousand. These prices are considerably higher than that of a luxury sedan from Ford or Chevy.
4. Promotion
4.1. Audi will run certain promotions throughout the year. Currently, certain sedans and some SUV's have a certain amount of money off the lease for a certain period. For example, Audi will take 600 dollars off your first months lease payment for an A3.
5. Market Info Management
5.1. They way Audi gets feedback is from their dealerships and any reports they get from them about popular problems with certain models and through customer reviews left on Audi dealership websites. 1) Have there been any prominent maintenance problems? 2) Would you buy another car from us based off how you feel with your current car? 3) How could we improve as a brand
6. Financing
6.1. Audi accepts many forms of payment. Cash, cashier checks, credit cards, loans and the dealerships financing options.
7. Distribution
7.1. Audi ships all of their vehicles overseas from Europe to the U.S. To do this, the cars must be shipped via boat. They are then picked up via car haulers and driven to a dealership.