The Use of Internet as a Tourism Support
by Roi Dominic Fruelda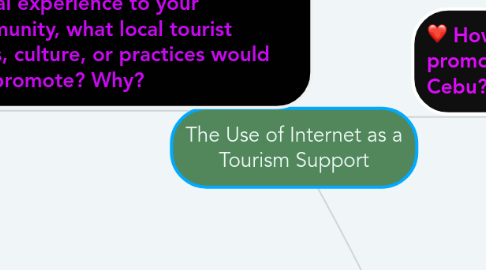 1. How did the Internet help in promoting tourism in Aloguinsan, Cebu?
1.1. The residents also learned about travel trends, branding and packaging, blogging, photography, videography, social media marketing and analytics, online and digital marketing tools, and responsible use of the Internet.
1.2. These concepts can be helpful as they develop a marketing strategy.
1.3. They will also be knowledgeable on how to advertise their products and place to attract more tourists.
1.4. The forum introduces Internet.org, a Facebook-led initiative which aims to make mobile Internet services available to two-thirds of the world who are not yet connected.
1.5. They can search for different information regarding weather, sports and free access to Facebook.
1.6. They will now have a power to communicate for farther places, promote their place and search information necessary for improving their area.
2. How did it improve the lives of the local community?
2.1. They learned how to do blogging, photography, videography and etc.
2.2. They became more responsible and they are making a positive impact on the environment.
3. If you could apply the Aloguinsan digital experience to your community, what local tourist spots, culture, or practices would you promote? Why?
3.1. Balete, Batangas is one of the locality wherein the view to Taal Lake and Taal Volcano is visible.
3.1.1. unique features
3.1.1.1. It is often called the island within a lake, that is an island within a lake that is on an island.
3.1.2. popular tourist spot because of it's magnificent structure.
3.1.3. good experience
3.1.3.1. You can see the lake and the mountain that surrounds Taal Volcano when you hike up the volcano
3.1.3.2. You may also go down to the crater to swim if the water is stable and there are also huts there where you can rest and take pictures of the crater.
3.1.4. Discovering things about Taal Volcano can promote new knowledge on blogging and social media marketing.
3.1.5. It also empowers the community to teach new platform s for effective promotion of Taal Volcano.
3.1.6. It can also be a way to improve local community through better tourism.