Follow Beth - 3 - jun 13, '07
by
John Smith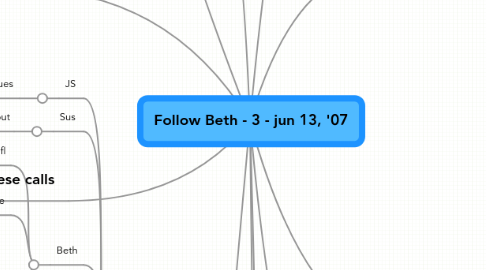 0.0
stars -
0
reviews range from
0
to
5
Follow Beth - 3 - jun 13, '07
CPsquare as anon protif
History of these calls
Deep
Participants
John Smith
peeked at Beth's blog
Beth Kanter
Games for Change, 2 days, Mixed reality panel, Beth facilitated, mixed media, AVatar in SL, Skype call, Power points, Twitter, Many layers, another communitiy
Netsquared meeting in SF, slideshare, Powerpoint, NPtech communinty
Etienne Wenger
Interested in emergent commnity that Beth's pulling together
mari ann
Foundations Workshopo Participatint
New Zealnad
Cristina Costa
Was in George Siemens forum last week
Final comments
JS
overwhelm & human values
Sus
Very interesting to hear about
Beth
Helpufl
at Games for change, How measure learning, Old metrics don't work, Research & learning environments, redefines research
Research, http://nptag.wikispaces.com/, http://bethkanter.wikispaces.com/Making+Media+Conference, 13 different tools, Horizon report, http://ncna.wikispaces.com/
EW
rephrase JDS question: where's the potential
recognize
ready to form
Mariann
a lot of potential
trying to build up framework
Jumping from one platform to antoher
Cristina
Dealing with skype
WiA has an email list as a launching pad, Home is "the Yahoo group", Becoming a webheads Yahoo group
Beth's role as "Network weaver"
Meta facilitator
Where is it?
Distributed CoPs around SOcial media apps
list of them
is there such a thing, should there be?
Multi-membership coach?
Content and technology
NPtech on face-book, not just tagged
Beyond NPTECH tag stream
Facebook
wiki
slideshare
video
flickr
Yahoo pipe
various ones
merge RSS feeds & refine
Hard to use?, Sus couldn't get it to work, Geeky people who made it work, Insert things in the tag stream that SHOULD be there
Can use / subscribe to other people's pipes
http://www.flickr.com/photos/cambodia4kidsorg/413619224/
http://beth.typepad.com/beths_blog/2007/03/what_lies_benea.html
upcoming
delicious tag
only used by 29 people
Technoratti
email version
different audience
blog summary
Twitter
completely based on individuals, whatever Joe says in interesting should be tagged, Ed could use
Sus: it looks silly
Non profit island in SL
It IS a CoP
CoPs need for a place, which comes first? the place or the community?
Can we separate social from technical?
Intoxication of the technologies
What's happening in Non profit technology about social media
Difference between a CoP and a network
value of a messy stream
Where does it lead?
A developmental view, not just an information pipeline, Am I connected to the right pipeline, Correcting each others' use of a tag is a sign of community formation
Many communities are forming in Beth's world
what comes out of all this beyond the geeky pleasure of mashup?
That's the reason for the summary
Platform Jumpers
Were on facebook a few months ago
NPtech folks on facebook
Leadership
Many forms
Human aggregator, Scoble's methods
curators
Supported by the technology
Workshop quiz by beth
how many RSS feeds do you follow
a dozen, follow the aggregators
several hundred
How identify them?
a subject-matter aggregator
Do communities form around aggregators
hierarchies of aggregators
Librarians
practices developed slowly
work did not happen in real time
What happens to our skills & their relevance