C8 ( Wired LANs : Ethernet)
by FaRaH huha huha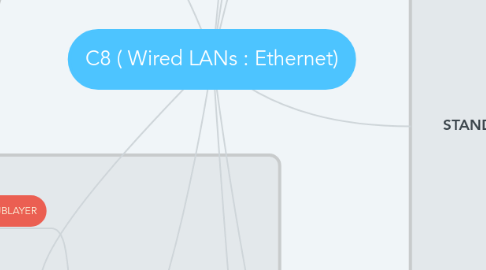 1. STANDARD ETHERNET
1.1. Two sublyers
1.1.1. Logical Link Control (LLC)
1.1.2. Media Access Control (MAC)
1.2. Frame Length
1.2.1. Minimum frame length is 64 bytes (512 bites) and Maximum is 1518 bytes (12 144 bits)
1.3. Addresssing
1.3.1. Each station has Network Interface Card (NIC). It provides the station with 6-byte physical address. Ethernet address is 6 bytes (48bits)
1.4. Unicast, Multicast and Broadcast Addresses
1.4.1. UNICAST ADDRESS
1.4.1.1. A unicast address is an address that identifies a unique node on a network. Unicast addressing is available in IPv4 and IPv6 and typically refers to a single sender or a single receiver, although it can be used in both sending and receiving.
1.4.2. MULTICAST ADDRESS
1.4.2.1. IPv4 Multicast Address Space Registry. Host Extensions for IP Multicasting [RFC1112] specifies the extensions required of a host implementation of the Internet Protocol (IP) to support multicasting.
1.4.3. BROADCAST ADDRESS
1.4.3.1. A broadcast address is a logical address at which all devices connected to a multiple-access communications network are enabled to receive datagrams. A message sent to a broadcast address is typically received by all network-attached hosts, rather than by a specific host.
2. WHAT IS LAN ?
2.1. Local Area Network (LAN) is a group of computers and associated devices that share a common communications line or wireless link to a server.
3. IEEE STANDARDS FOR LANs
3.1. In 1985, the Computer Society of the IEEE started a project, called Project 802, to set standards to enable intercommunication among equipment from a variety of manufacturers. Project 802 is a way of specifying functions of the physical layer and the data link layer of major LAN protocols.
4. ETHERNET EVOLUTION
4.1. STANDARD ETHERNET (10 Mbps)
4.2. FAST ETHERNET (100 Mbps)
4.3. GIGABIT ETHERNET (1 Gbps)
4.4. TEN-GIGABIT ETHERNET 10Gbps
5. PHYSICAL LAYER
5.1. Standard Ehternet common Implementations
5.1.1. 10Base5
5.1.1.1. Bus Topology with an external transceiver
5.1.1.2. The original cabling standard for Ethernet that uses coaxial cables. The name derives from the fact that the maximum data transfer speed is 10 Mbps, it uses baseband transmission, and the maximum length of cables is 500 meters. 10Base5 is also called thick Ethernet, ThickWire, and ThickNet.
5.1.2. 10base2
5.1.2.1. Bus Topology
5.1.2.2. 10BASE2 (also known as cheapernet, thin Ethernet, thinnet, and thinwire) is a variant of Ethernet that uses thin coaxial cable terminated with BNC connectors.
5.1.3. 10Base-T
5.1.3.1. Star Topology
5.1.3.2. 10Base-T Definition. 10Base-T is the Ethernet wiring standard for 10 Mbps (megabits per second) for a maximum distance of approximately 100 meters per segment over unshielded twisted pair cables terminated with RJ-45 connectors. ... The cable consists of two pairs of unshielded, but insulated twisted wires.
5.1.4. 10Base-F
5.1.4.1. Star Topology
5.1.4.2. 10BASE-F, one of several physical media specified by IEEE 802.3, is the use of optical fiber in an Ethernet local area network (LAN). Like other specified media, 10BASE-F supports Ethernet's 10 Mbps data rate.
6. CHANGES IN THE STANDARD
6.1. BRIDGED ETHERNET
6.1.1. An Ethernet network bridge is a device which connects two different local area networks together. Both networks must connect using the same Ethernet protocol. Bridges can also be used to add remote computers to a LAN. Many bridges can connect multiple computers or other compatible devices with or without wires.
6.2. SEPARATING COLLISIONS DOMAINS
6.2.1. A collision domain is a network segment connected by a shared medium or through repeaters where data packets may collide with one another while being sent. The collision domain applies particularly in wireless networks, but also affected early versions of Ethernet.
6.3. SWITCHED ETHERNET
6.3.1. In the case of individual hosts, the switch replaces the repeater and effectively gives the device full 10 Mbps bandwidth (or 100 Mbps for Fast Ethernet) to the rest of the network. This type of network is sometimes called a desktop switched Ethernet. In the case of segments, the hub is replaced with a switching hub.
6.4. FULL-DUPLEX ETHERNET
6.4.1. Full-duplex is a data communications term that refers to the ability to send and receive data at the same time. Legacy Ethernet is half-duplex, meaning information can move in only one direction at a time. In a totally switched network, nodes only communicate with the switch and never directly with each other.
7. FAST ETHERNET
7.1. MAC SUBLAYER
7.1.1. The access method is the same (half duplex with CSMA/CD).
7.1.2. A new feature added is called autonegotiation that allows two devices to negotiate the mode or data rate of operation.
7.2. PHYSICAL LAYER
7.2.1. Star Topology
7.2.2. categorized as either two-wire or four-wire.
7.2.3. Two-wire implementation can be either cat 5 UTP or fiber-optic cable
7.2.4. Four-wire implementation is designed only for cat 3 UTP.
8. GIGABIT ETHERNET
8.1. MAC SUBLAYER
8.1.1. Gigabit Ethernet has two distinctive approaches medium access: • half-duplex using CSMA/CD or • full-duplex without CSMA/CD (no collision)
8.2. PHYSICAL LAYER
8.2.1. Star Topology
8.2.2. Can be categorized as either two-wire or four-wire implementatio
8.2.3. Two-wire version can be either fiber-optic cable (1000Base-SX, shortwave, or 1000Base-LX, long-wave) or STP
8.2.4. Four-wire version uses cat 5 twisted-pair cable (1000Base-T)
9. TEN-GIGABIT ETHERNET
9.1. 10 Gigabit Ethernet (10GE, 10GbE, or 10 GigE) is a group of computer networking technologies for transmitting Ethernet frames at a rate of 10 gigabits per second