Multnomah County Earthquake Preparedness Earthquakes and Tsunamis
by LC Earthquake Research Summer 2018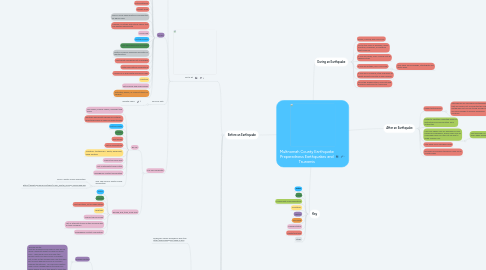 1. Before an Earthquake
1.1. Get A Kit
1.1.1. Home Kit
1.1.1.1. Water- One gallon per person per day
1.1.1.2. Food- a supply of non-perishable food, snacks and a can opener
1.1.1.3. NOAA Weather Radio or small personal radio that is hand crank of battery powered
1.1.1.4. Flashlight
1.1.1.5. Extra Batteries
1.1.1.6. First Aid Kit
1.1.1.7. Extra prescription medications
1.1.1.8. Toiletries and sanitation items
1.1.1.9. Tool set that includes tools to shut off your utilities
1.1.1.10. Dust mask, gloves, and protective clothing
1.1.1.11. Local Maps
1.1.1.12. Cash in small denominations and quarters for phone calls
1.1.1.13. Cell phone with charger
1.1.1.14. Twin Buckets for pee and poo
1.1.2. Go Kit
1.1.2.1. One Per-Person kept with Home Kit incase evacuating the home is necessary
1.1.2.2. Backpack or easy to carry container
1.1.2.3. Flashlight
1.1.2.4. Radio
1.1.2.5. Extra Batteries
1.1.2.6. Pocket Knife
1.1.2.7. Cash in small denominations and quarters for phone calls
1.1.2.8. Change of clothes with sturdy shoes that are weather appropriate
1.1.2.9. Local Map
1.1.2.10. Portable water
1.1.2.11. Non-perishable food or snacks
1.1.2.12. Photos of family members and pets for identification
1.1.2.13. First aid kit including a list of allergies
1.1.2.14. Extra prescription medications
1.1.2.15. Copies of ID and health insurance cards
1.1.2.16. Toiletries
1.1.2.17. Extra house and vehicle keys
1.1.2.18. Activities, games, or comfort items for children
1.1.3. For your Pets
1.1.3.1. Disaster relief
1.1.4. For your commute
1.1.4.1. By car
1.1.4.1.1. Tire chains, jumper cables, flashlight and flares
1.1.4.1.2. Weather appropriate change of clothing and sturdy shoes in case you need to walk
1.1.4.1.3. Bottled water
1.1.4.1.4. Snacks
1.1.4.1.5. First aid kit
1.1.4.1.6. List of medications
1.1.4.1.7. Toiletries- toothbrush + paste, deodorant, hand sanitizer
1.1.4.1.8. Map of the local area
1.1.4.1.9. List of alternate travel routes
1.1.4.1.10. Emergency contact information
1.1.4.1.11. Also See ODOT's Winter Travel Information
1.1.4.2. By bike, bus, train, or by foot
1.1.4.2.1. Water
1.1.4.2.2. Snacks
1.1.4.2.3. First aid items, list of medications
1.1.4.2.4. Toiletries
1.1.4.2.5. Map of the local area
1.1.4.2.6. List of alternate travel routes including bus or train schedules
1.1.4.2.7. Emergency contact information
1.2. Family Emergency Plan
1.2.1. Ready.gov family emergency plan tool http://www.ready.gov/make-a-plan
1.2.2. Make A Plan
1.2.2.1. An emergency plan should include the following:
1.2.2.1.1. Escape routes
1.2.2.1.2. Evacuation plans
1.2.2.1.3. Vital records and insurance information
1.2.2.1.4. Safety Skills
1.2.2.1.5. Care for pets
1.2.2.1.6. Utility shut off procedures
1.2.2.1.7. Family communications
1.3. Make sure everyone in household knows how to turn off utilities
1.4. Check home for possible earthquake hazards
1.4.1. Brace or secure heavy objects like dressers, fridges, large pictures.
1.5. Sign up for PublicAlerts to recieve emergency communications from authorities
1.5.1. PublicAlerts | News and information on major service disruptions in the Portland-Vancouver metro area.
2. During an Earthquake
2.1. DROP, COVER, and HOLD ON.
2.2. Try to stay clear of windows, heavy furniture, fireplaces, or anything that could fall.
2.3. If you are inside, STAY INSIDE until all shaking stops
2.4. If you are outside, STAY OUTSIDE
2.4.1. Stay away from buildings, streetlights and utility wires
2.5. If you are in a vehicle, stop as quickly as safety permits and stay in your vehicle
2.6. Once the shaking stops, evacuate and proceed cautiously to a safe area
3. After an Earthquake
3.1. Expect aftershocks.
3.1.1. Aftershocks are secondary earthquakes that are usually not as violentas the main earthquake but can be strong enough to do more damage to already weakened buildings
3.2. Listen to a battery-operated radio for instructions and information from authorities
3.3. Use your phone only for emergency calls. During an emergency, phone lines may be overloaded and you may not be able to make a phone call
3.3.1. Text message or email may get through even when phone lines are busy
3.4. Stay away from damaged areas
3.5. Be aware of possible tsunamis if you live in coastal areas
4. Key
4.1. Water
4.2. Food
4.3. Community Communication
4.4. Sanitation
4.5. Shelter
4.6. Self Care
4.7. Transportation
4.8. Safety/First Aid
4.9. Other