Booking Systems
by KRISTEN-ASHLEY CLOCUH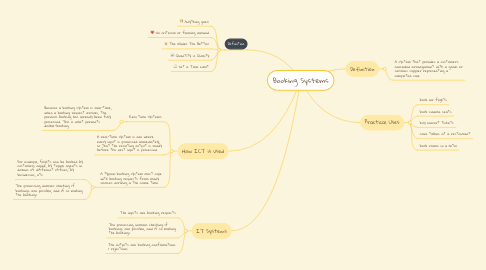 1. Definition
1.1. Anything goes!
1.2. No criticism or flaming allowed
1.3. The Wilder The Better
1.4. Quantity is Quality
1.5. Set a Time Limit
2. Definition
2.1. A system that provides a customer's concluded arrangement with a goods or services supplier representing a completed sale.
3. Practical Uses
3.1. book air flights
3.2. book cinema seats
3.3. buy concert tickets
3.4. save tables at a restaurant
3.5. book rooms in a hotel
4. How ICT is used
4.1. Real time Systems
4.1.1. Because a booking system is real-time, when a booking request arrives, the previous booking has already been fully processed. This is what prevents double-booking.
4.2. A real-time system is one where every input is processed immediately, so that the resulting output is ready before the next input is processed.
4.3. A typical booking system must cope with booking requests from many sources arriving a the same time
4.3.1. For example, flights can be booked by customers online, by travel agents in dozens of different offices, by businesses, etc.
4.3.2. The processing involves checking if bookings are possible, and if so making the bookings
5. IT Systems
5.1. The inputs are booking requests
5.2. The processing involves checking if bookings are possible, and if so making the bookings
5.3. The outputs are booking confirmations / rejections