PS 204 Media Literacy & Communications Map
by
The Media Spot, LLC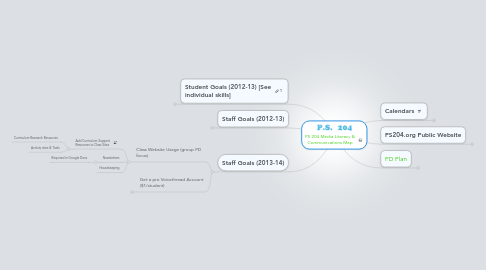 0.0
stars - reviews range from
0
to
5
PS 204 Media Literacy & Communications Map
Who are the point people for each of these Calendars? 
Public/Community (active now)
Staff
PD
Coverages
Field Trips
Fire Drills
Grade Level
Look at K
Cluster
Other
equipment checkout
field trips
afterschool
building events
Class Web Pages
Blog or links to Google Docs folders, Homework, Announcements, Student work, Newsletters
Photos/slideshow in Picassa
Links, parent tips, extension activities, recommended websites
Curriculum Outline, Pages per unit, link to unit plan, research links (could be built by kids during units), blog of student work
Announcements
Ms. Lehmert? is point person? Harkins? Paras?
Ms. Nissing handles office announcmements
Admins eventually
Community Calendar
Basic Brochure info about the school
Teacher links
Link to ATLAS
Renaissance
Research Skills
Search Best Practices: keyword strategies, etc.
Image search
Content Search
Source Citation
Source Validation (Who wrote it? Why trust them? Who else says the same thing?
Online Collaboration
Connect fundamentals of literacy to multimedia, Audience, Tone, Purpose, Logic
Access information
Think critically about where it comes from
Think critically about how you combine media to communicate
Keyboarding Skills
Word Processing, New, Open, Cut, Copy, Paste, Quit, Page Setup
Powering up and logging in to computer
Manage staff documents in Google Docs (PS 204 All Staff Folder)
204 Administrative Docs (CEP, Forms), How-to Documents, Forms, Custodial Form, Tech Support Request Form, Templates, letterhead, memo, schedules, newsletter, CCLS, Teacher Effectiveness (Danielson PD, etc.), Danielson, Professional Goals, Admin Memos, CEP
Clusters, Content area, Curriculum, Schedule
Grade Levels (i.e. Grade 1), Teacher Folder, Schedule, Reading Data, dra, Ren. learning, Writing Data, template, baseline, mid-line, endline, Math Data, baseline, mid-chapter, chapter assessment, Curriculum Maps, Unit/Lesson Plans, Newsletters (i.e. Miskimmons), Protocols: Baseline, Midlines, etc.
Manage Student Work in Docs (grades 2-5)
Each student makes a folder and shares it with teacher
Students could have content area folders, and a "portfolio" folder (optional)
Teachers would be best off learning to manage student accounts in Google Apps (changing passwords, etc.)
This will require set up of accounts. Who's doing that (beyond R&C)?
kids login is included in the portfolio
2nd half of year for 2nd grade
Integrate Routine Skill Building
K/1 Activity Websites
2/3 Typing Practice, Typing practice games, Reinforce with google docs
2/3 Web Research Best Practices, Learn keywords, search terms, Do within real units
2/3 reinforce & assess above through Small Scale Independent Digital Productions, iMovie, Presentations (google), Glogster
4/5 reinforce & assess above through Independent Digital Productions, Google Presentations, Screencasts, iMovies, Voicethread
How would you like to approach this when pulling out laptops? Where does it fit?
2 Culminating Projects
K-1 ongoing media production
2-5 2 projects per teacher per year
Building on models from last year
K-1 Group projects with teachers assisting with the computers.
2-5 Varying levels of independent student productions
GOAL: Design projects that align with CCLS & develop media literacy (understanding concepts + hands on practice)
Blogging or publishing writing on google site
Publish video or multimedia work that is based on solid writing or demonstrates clear communication standards.
Learn Basic Google Docs Skills (aka "Google Drive")
Upload & Convert Documents, Word, Powerpoint, PDF, Excel, .Notebook, other...
Create new Google Docs, Docs, Presentations, Spreadsheets, Forms, Drawings
File "Make a Copy"
Rename Docs, click the title, naming conventions, class number, teacher/student name, OR grade level
Organizing Docs in Folders, Move Docs to Shared "Collections" aka Folders, Create new Collections, GOAL: search for, or upload existing Docs and file them in the shared folders
Beyond..., Collaborating on a Document, Sharing Docs outside of the folders, "Organize" docs into more than one folder, Upload photos of student work, Annotate/Comment on Docs, Embed Docs in Google Sites, Create Forms for surveys & quizzes, Create self-grading quizzes
Increase Parent Involvement
afterschool workshops
Build-in time for parents to collaborate with students on real projects afterschool
involving students as facilitators (2nd and 5th grade?)
GOALS
base level of communications know-how
2 projects per teacher
clear vertical integration of tech skill development
How to group staff for PD
Teachers Observing Teachers
Teacher Lab Sites
Group by skill level for communications workshops
Group by grade level for project planning
Workshop Days
All Staff Skills Workshop
Group them by skill level
iMovie
Voicethread
Google Docs, Google docs management of classroom, Google docs school folder organization, Surveys: for monitoring student discipline, Google docs basic word processing & collaboration, Google docs management
Google Accounts, gmail (forwarding & contact lists)
iPad basics and planning
Next Steps
Setting up Student Accounts
Rhys & Corinne map skills & project with Grade Teams in Fall
Update grade level websites with teachers, Photos of work, Photos of classes, Curriculum blurb, Statemen from student
Check in production timeline
In class skill building help/monitoring
Google apps/ docs support, Folder management, Student docs monitoring
Here's what the teachers can do
Data, Based on need, Rating on a rubric "as evidenced by/.."
Based on chancellors expectations OR implementation of common core
Add evidence to the survey (what does it look like)
planning; pedagogy; instructional practice; content building ie deeper understanding of what's being taught; assessment ie desired results; classroom environment; 1e, 3b, 3e (Danielson, but don't say it's Danielson)
Staff Goals (2013-14)
Class Website Usage (group PD focus)
Add Curriculum Support Resources to Class Sites, Curriculum Research Resources, Activity sites & Tools
Newsletters, Required in Google Docs
Housekeeping
Get a pro Voicethread Account ($1/student)
promote conversations
collaboration
presentations
tutorials