Taylor Swift
by Jordan Mascaro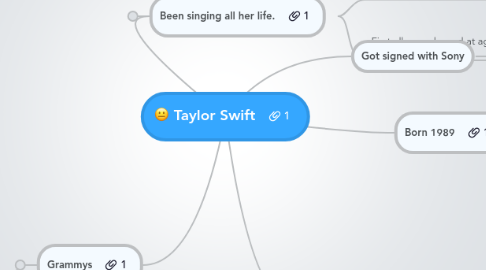 1. Born 1989
1.1. Pennsylvania
1.2. Moved to tennssee at the age of 14
2. Been singing all her life.
2.1. First hit single was Tim McGraw
2.1.1. Began writing this song in 9th grade
2.2. First album released at age 16
2.2.1. Sells more than 2.5 million copies.
3. Got signed with Sony
3.1. Got out of her contract because she didn't want to sing other peoples songs, and she didn't want people singing her songs.
3.2. Got signed with Big Machine Records
4. Age 17
4.1. Performs latest hit at the CMA's.
4.2. Wins the coveted Horizon award
5. Grammys
5.1. Gets nominated for Best Artist of the year, but loses.