Kjemi - hva er alt lagd av?
by
Åsmund Aasjord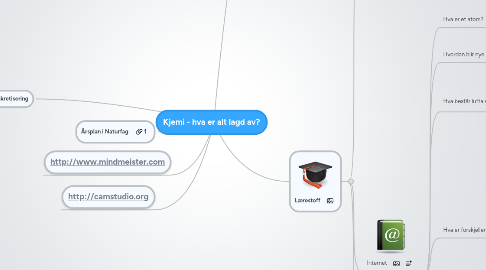 0.0
stars - reviews range from
0
to
5
Kjemi - hva er alt lagd av?
Læreplansmål Mål for opplæringen er at eleven skal kunne:
beskrive sentrale egenskaper ved gasser, væsker, faste stoffer og faseoverganger ved hjelp av partikkelmodellen
forklare hvordan stoffer er bygd opp, og hvordan stoffer kan omdannes ved å bruke begrepene atomer og molekyler
gjennomføre forsøk med kjemiske reaksjoner og forklare hva som kjennetegner disse reaksjonene
Lærestoff
Globus 7
Internet
The Internet is a global system of interconnected computer networks that use the standard Internet Protocol Suite (TCP/IP) to serve billions of users worldwide. It is a network of networks that consists of millions of private, public, academic, business, and government networks, of local to global scope, that are linked by a broad array of electronic, wireless and optical networking technologies. The Internet carries a vast range of information resources and services, such as the inter-linked hypertext documents of the World Wide Web (WWW) and the infrastructure to support electronic mail. Most traditional communications media including telephone, music, film, and television are reshaped or redefined by the Internet, giving birth to new services such as Voice over Internet Protocol (VoIP) and IPTV. Newspaper, book and other print publishing are adapting to Web site technology, or are reshaped into blogging and web feeds. The Internet has enabled or accelerated new forms of human...
Laboratorieforsøk
Konkretisering
Dramatisering
Årsplan i Naturfag
http://www.mindmeister.com
http://camstudio.org