INFORMATION AND COMMUNICATION TECHNOLOGY
by cata b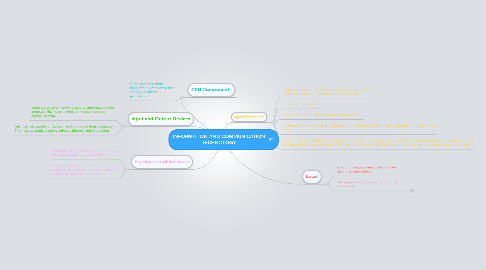 1. Excel
1.1. is a computer programm used to create electronic spreadsheets
1.2. This organize data, create charts and perform calculations
1.2.1. Nuevo nodo
2. CPU Components
2.1. CPU: is the brain of the computer It is the device that carries out software instructions.
3. Input and Output Devices
3.1. Input: is a piece of hardware used to enter data into the computer. Examples: Keyboard, mouse, touchpad, joystick, camara.
3.2. Any machine capable of representing information from a computer. This includes display screens, printers, plotters, and synthesizers.
4. Hardware and Software
4.1. Hardware: Any phisical part of the computer that you can touch, see or pick up.
4.2. Software: are the applications and proggramming instructions needed to make a computer hardware do useful work
5. types of computers
5.1. mainframe computer is a large computer, often used by large businesses, in government offices, or by universities.
5.2. Personal Computer (PC)
5.3. laptop' computer is a light, compact and portable PC.
5.4. palmtop computer is similar to a laptop computer, but smaller. It's small enough to fit in the palm of your hand
5.5. PDA is similar to a palmtop computer, except it is even more compact, and typically has no keyboard, using a touchscreen for all data input. Since the screen is so small, many PDAs have a small stylus (plastic stick) that is used to press things on the screen.