سسس
by
Cammy Bean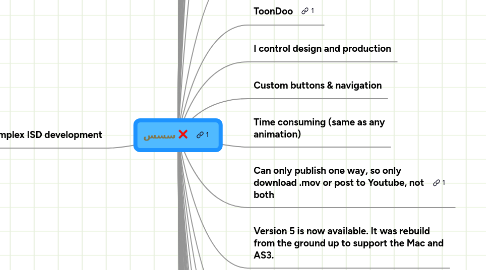 5.0
stars -
14
reviews range from
0
to
5
What I like about it...
Not ideal for heavy video and sound (but what web pages really are?)
I tend to use native Flash if I'm building modules with a lot of video and audio
Takes a long time to self-teach. JavaScript headaches for newbies. Tears, sometimes, too.
Custom buttons & navigation
Does have the ability for does with Action script skills to build their own interactions if needed
courses work on PC's, tablets, and SmartPhones
video/audio distribution is supported without the need for other client-side video plugin
Authoring, Admin, Publishing, and Reviewer roles
Rapid animation and interactions using behaviours
Can't edit
Single-step capture of screen actions that publish in multiple formats including playback movies, job aids, exercises, work instructions, cue cards, etc . . ., I explore, produce, iterate
Electronic workflow, review, and approval features with built-in e-mail notification
Good change control features for controlled/regulated/restricted content
Good support site
Drawing tools still need work
When I use it...
Software Demonstration
Help videos
New functionality announcements
Very fast development
Easy to produce stunning, challenging game-based content
What I like about it
I can create my own layout individual navigation can build a structure can use multiple master pages have a lot of test-options
What I don't like about it...
Rapid eLearning
Can be clumsy to do things a conventional package does easily
Rapid elearning projects
When I use it...
Time consuming (same as any animation)
I can incorporate content developed in other tools into it
Complex ISD development
Quick free way to get screen captures.
When the audience suits a 3D game approach
easy export to different formats (eg scorm, cd, web) with error testing as part of process - highlights what content doesn't work in that format
Project management features help with rapid authoring development
Range of elearning course
System training
Rapid
Bespoke
Assessments
Crazy expensive
Animated characters
Complex scenario based learning
Mobile Disturbution
Trade show attract loop
vector graphics reduce file size
custom fonts are bundled with .swf file
Supports Multiple Distribution
Good work flow system
New node
What I like about it...
Support from the company
Flexibility to do just about anything you need to do
Lots of templates for common activites
SmartBuilder
I control design and production
Much more accurate than Captivate for screen captures, recognizes names of buttons, icons, and functions while recording in SAP
What I like about it
Accessible
Easy to use
Saas tool, (web based and hosted)
Dont need programming skills
Give review access to people who don't have access to use the tool for building purposes
Page level commenting for reviewers
Collaborative
Share content with other users building content
Share project documents
Price model
Scalable
Different levels of author access
Author
text editor
Administrator
PENS compliant
SCORM 1.2, 2004 AICC compliant
What I don't like about it...
No H.264 export option
Limited choice of characters / backdrops / props
export format is only AVI
Buggy, some unclear documentation
Difficult to support constructivist learning
Rapid eLearning
New node
Able to incorporate JavaScript
Book, Chapter, Page metaphor structure
Can get someone building content in just a few minutes - WYSIWYG
Parent / Child content and functionality
So many fields to fill out!
HTML output
Huge learning curve - disagree with this viewpoint it's one of the easiest as the complex interactivity is done in the background - user can just add content
Friendly interface for beginners, but once you start using advanced features, the user interface is limiting.
Output looks, well, sort of 1992ish
It has a problem with font aliasing: fonts on transparent captions look either ulgy or not aliased.
Only alerts to content problem (eg not scorm compliant) at publishing stage
Need Lectora to re-edit published content - locks into using the software
Screen Jelly
When I use it
When I need a quick video recording of my screen
Presentations
Demonstrations
What I don't like about it
3 min limit
difficult to edit or add features (text, zoom)
What I like about it
Easy of use
Free
Download .mov or publish to Youtube
Rapid 3D development with Google Sketch-up
To build complex assets to integrate into other authoring tools that support rapid development
Custom feedback
When I use it
"Poor man's Flash" - easy way to create some basic animations
create 'how to' demo of software and site navigation
sound / video quality fine for web
When I use it...
when I need to create drag & drop activities and keep a solid style (easily) throughout several screens
Scenario-based learning with branching questions and feedback
For scenario video integration
For assessments or quizzes needs
When database integration is needed
Rapid eLearning
Software and applications demonstrations
Complex learning scenarios that require multiple branching pathways and multiple ways to navigate between pages
What I don't like about it...
per user costs are hard on a tight budget, but there are very nice discounts for education
Not a lot of options for extending it's capabilities since it doesn't export to Flash. Also you don't get the source file and are always required to update the course within the tool.
Easy for faculty to acclimate to it because it is familiar, a PPT plug-in.
Screen Capture
Screenr
When I use it..., Simple/short screen capture with audio
What I like about it, Simple to use, focused only on one thing, Can focus on all or part of the screen, video has easy pause facility during capture
ScreenToaster
What I like about it, Quick free way to get screen captures., Simple to use, focused only on one thing
Screen capture with audio
Snagit (v9)
When I use it, still image capture
What I like about it, cheap, easy to use
What I don't like about it...
ScreenFlow
What I like about it
What I don't like about it
Snapz
What I like about it
What I don't like about it
خالد العميري
What I don't like about it..., Preset callout boxes look hokey - agree!, A few minor head-scratchers in the Editor, can't overlay graphics very easily, hard to make click-throughs
STT Trainer
When I use it, New system launches, Major releases of existing systems
What I don't like about it
What I like about it, Very accurate system captures, saving editing time, Can re-use the same capture in different formats to suit different learning situations
branching capability allows multiple right answers
ReadyGo WCB
when I use it, for compliance training, to create rapid e-Learning, to produce assessments - (lots of testing capabilities), when I want to integrate text, movies, tests into one course
what I like about it, quick and easy to use, produces real web content (small fast pages that don't bog down my network), Is not flash based, I can create flash, movies, pictures, audio in other tools and bring them into the course, great customer support, lots of good information on their web site, I decide if the course needs audio or video, then add it in (the tool doesn't require flash, audio or other media for courses to work well), Great SCORM support - sends all the info to an LMS that the LMS can take (other tools I have worked with only send the minimum amount of info), Copy/paste to bring PPT, Word, Excel docs into the tool maintaining formating, I bring SCORM objects I create with other tools into ReadyGo WCB to create a complete course, Instructional design is built in - helps me build effective courses, license is inexpensive ($500) no per student fees
what I don't like about it, User interface is not WYSIWYG - but it lets me build courses quickly
Ease of use
lklj
Integration with other Adobe tools
Screen recording (software demos)
Easy to create interactive software sims
easy image edit for software simulations
publishes fairly quickly
Good for non-training professionals new to eLearning development
Record audio as your walk through demonstration and then go back and edit audio later. Easy on-the-fly demos that can be polished and re-purposed., Speedy demos, sims, assessments
Allows users to upload custom buttons easily using the object styles feature
The Master Slide for interface development
Publish to various size outputs
Roundtrip into Photoshop and Flash for advanced customization
2D Game Based learning
Customized and complex assessment
Rapid eLearning
New node
A lot of very flexible templates are provided
Fully online authoring, giving access to shared resources
Free, powerful.
Students can easy understand e-learning
When I don't have time (or the need) to start from scratch and specify how a module should work
When I know the content will need to be kept up-to-date by someone else (a non-programmer)
Ease of use, Easy to add questions and interactions, Built in design templates and themes mean I don't have to be a designer to produce professional-looking modules
Exports to web just like it's authored (WYSIWYG)
I can easily add Articulate Engage and Adobe Captivate content, Integrates with online review which speeds our review cycles (MySeminar Review), New node
Speeds review process
Exports to SCORM 1.2, CD, web, script, etc
mZinga Firefly
When I use it...
New node
What I like about it...
New node
What I don't like about it...
EXPENSIVE license
Sims are image based; meaning sim maintenance can be a pain when systems change.
Difficult/Impossible to pass interaction data out of sim to LMS for analytics.
New node
Thinking Worlds
Version 5 is now available. It was rebuild from the ground up to support the Mac and AS3.
I explore, produce, iterate
A bit version 1'ish (even though it's v3)
Rapid e-learning
Product training
Create assessments, exams, surveys
When developing content with team
When content needs to be maintained by customers
Easy integration of (Flash) plugins
Various methods of publications (SCORM, HTML, CD-ROM) directly available
Content is stored on server
Client application is fast
Easy integration of voice overs, video files, screencasts
True WYSIWYG editor even previews questions and interactions
Only Windows client available
Requires (internet) connection to the server
ToolBook
RWD uPerform
When a training team needs to develop work instructions or interactive software simulations for ERP training
When I need to create end-user training exercises and job aids for SAP users
For managing a team of content developers or have SMEs review training materials
Developing assessments and converting PowerPoint to linear e-learning
When content management and change control is needed for hundreds of training documents
Expensive unless used to support a large number of end-users
Audio files must be imported, can't record audio directly into content
Authorware
Jing
When I use it
Create short screencast
What I like about it
It's free
It's simple
It does what it says on the tin.
Edit, delete, duplicate advanced actions and apply them to slides or interactive objects
What I don't like about it
Limited output format (esp video)
Sound quality not brilliant
Udutu
When I use it
Quick prototyping of flow
New node
What I like about it
Quick and Easy
Free
When I use it..., When I want to create a navigateable set of HTML pages that can include quiz questions and some other basic interactivity.
What I like about it..., Free, simple to use,, Open source, can export to a range of formats (SCORM, HTML)
What I don't like about it..., Doesn't add flash based content, no way (that I know of) to import content from elsewhere., problematic to inlcude larger screenshots
Don't like
Sometimes restrictive
SCORM/Flash only
Assima
Director
When I use it...
Complex e-learning
Custom interactions
Simulations, Rapidly develop SCORM compliant courseware
3D models required in training/learning
Online collaboration within virtual world
Game Based Learning, Learning and motivational animations
What I like like about it...
Rapid prototyping
Debugging tools
Multi Distribution formats
Multi Scripting language support (lingo or javascript)
What I don't like about it...
Programming Skills require for complex/custom interactions
High learning curve
plugin (shockwave) required to view through browser
file sizes can be large compared to the swf format
hnerynretntr
When I use it...
To engage learners with 3d animation
storyboarding (eg a film)
What I like about it ...
Free
Fairly intuitive to use
easy to customise characters (like wii me but more options)
Sophisticated tool - Training is required to become a proficient user of the tool
EasyProf
When I use it
create courses for Web, CD and LMS (SCORM)
New node
When I need a lot of interactivity
What I don`t like about it
Demo-Builder
What I like about it...
Low ramp up
Easy to use
Multiple layers of automatic annotation
ILT Systems
Dreamweaver
When I use it, Need to deliver final product in HTML, For iPad
What I like about it, Complete flexability, Stable, SCORM output
What I don't like about it, Requires Programming
Easily changeable branching tree
Ability to storyboard, write content, design, play and test all in one tool
Export Review feature to export all text content into a Track Changes enabled Word document.
Ability to easily import the changes in Export Review word document into the tool.
Easy integration with any LMS (SCORM 2004, SCORM 1.2 & AICC, So easy to manage changes to a simulation
When I use it
For producing professional e-learning
Flash based/ iphone version out soon
What I like about it
3D
SCORM output
Video Presenters
What I don't like about it
Requires Flash to design own new templates
CourseBuilder
CourseBuilder
What I use it for
to produce quick, effective courses
OH GOD TURN OFF THE EDITS !
What I like about it..., A good choice of features, to add variety to courses
What I don't like about it..., Only works on PCs for authoring.
When I use it..., Demonstrate ideas
What I don't like about it..., Difficult to learn, has scripting language, documentation is in Russian, and really is a dog of a thing to learn for a newbie.
Wimba Create, When I use it..., When I need to convert an existing Word document into a set of HTML pages and add some interactivity like quizzes etc., To create cross-platform course content, What I like about it..., Exports to HTML IMS CP without clunky flash or custom UIs!, Doesn't add flash based content., Accessibility checking for 508 compliance, What I don't like about it..., Feels outdated and unsupported by Wimba