Adhiraj, Rohan, Krishiv TOK Essay "The quality of knowledge is best measured by how many people accept it."
by Adhiraj VALLABH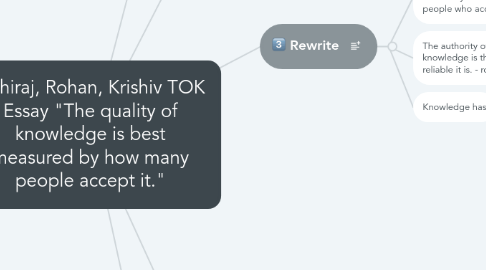 1. Keywords
1.1. quality
1.1.1. how do you define the quality? is this how accurate the knowledge is to the truth? or how accurate it is relative to our perceptions of the truth?
1.2. best
1.2.1. what does best imply? that it will more frequently provide the truth? however due to the fact that in any given field it is likely that only a minority of people will be experts, doesn't that mean that the majority are more or less, uninformed and hence what qualifies them to have an opinion on a matter which they are not, fully, familiar with.
1.3. accept
1.3.1. accept is quite ambiguous, by this i mean that i accept that the world is round, only because i have been told it is. this is how most people would feel. however if a similar mindset is applied to a more controversial topic, what does accepting it mean? That i, personally believe it is true? or that i have been force fed the idea that it is true? how would i say that someone accepts something? often when we accept things without questioning them it leads to our largest misconceptions.
1.4. knowledge
1.4.1. what is knowledge? a question to ponder is that with ever evolving tech, how can we ever know for sure that our 'truth' is the actual truth. Just because we observe and we test, does not mean it is true, it simply implies that our perception of the truth is the most accurate it can currently be. however in the future we may be able to discover things which disprove what we currently believe to be knowledge. this has occured an innumerable number of times throughout history.
2. Key Phrases
2.1. Quality of knowledge
2.1.1. How has the knowledge been able to expand on information that we already have. Depending on that, one can judge how qualitative certain knowledge is.
2.2. Best measured
2.2.1. How can one best measure the quality of knowledge.
2.3. Accept it
2.3.1. If a majority accepts some knowledge, does that make it right? Knowledge can be measured by looking at the number of people who accept it, but that technique is not the most accurate. Just because a theory is widely accepted, does not necessarily mean that it's true. Take the flat earth theory for example, in the past it was widely believed that the Earth was flat, but now its common knowledge that the earth is Spherical
3. Rewrite
3.1. The validity of knowledge is most accurately measured by the people who accept it
3.2. The authority of people who accept knowledge is the best way to validate how reliable it is.
3.3. Knowledge has
4. Rewrite
5. Connections to Classes
5.1. Physics
5.1.1. Natural Sciences
5.1.2. RLE/PK Connections
5.1.2.1. Connection
5.1.2.1.1. WOK
5.1.2.1.2. Framework Area
5.1.2.2. Connection
5.1.2.2.1. WOK
5.1.2.2.2. Framework Area
5.2. Psychology
5.2.1. Human Sciences
5.2.2. RLE/PK Connections
5.2.2.1. Connection
5.2.2.1.1. WOK
5.2.2.1.2. Framework Area
5.2.2.2. Connection
5.2.2.2.1. WOK
5.2.2.2.2. Framework Area
5.3. Subject 3
5.3.1. AOK
5.3.2. RLE/PK Connections
5.3.2.1. Connection
5.3.2.1.1. WOK
5.3.2.1.2. Framework Area
5.3.2.2. Connection
5.3.2.2.1. WOK
5.3.2.2.2. Framework Area