TOK Essay (Sabrina) "One way to assure the health of a discipline is to nurture contrasting perspectives"
by Sabrina LEE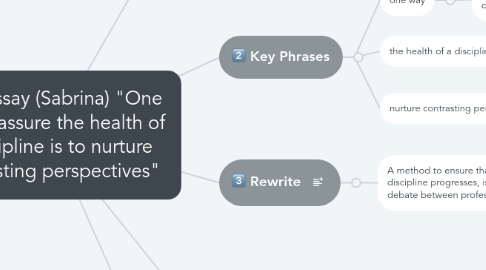 1. Keywords
1.1. assure
1.1.1. to make sure of, without any doubts
1.2. health
1.2.1. the ability to live on, and to improve
1.3. discipline
1.3.1. one subject within an area of knowledge, typically studied at higher education
1.4. nurture
1.4.1. help or encourage the development of
1.5. contrasting
1.5.1. opposites, differing strikingly
1.6. perspectives
1.6.1. attitude towards something, opinion.
2. Key Phrases
2.1. one way
2.1.1. meaning it is one of the ways to nurture a discipline, but not the only way.
2.2. the health of a discipline
2.2.1. the survival, development and relevance of a discipline
2.3. nurture contrasting perspectives
2.3.1. to not only tolerate, but encourage professionals to be in argument with each other, and to be able to justify their stance
3. Rewrite
4. Rewrite
5. Connections to Classes
5.1. Philosophy
5.1.1. Human Sciences
5.1.2. Determinism vs Indeterminism philosophical debate.
5.1.2.1. Connection
5.1.2.1.1. WOK
5.1.2.1.2. Framework Area
5.1.2.2. Connection
5.1.2.2.1. WOK
5.1.2.2.2. Framework Area
5.2. Subject 2
5.2.1. AOK
5.2.2. RLE/PK Connections
5.2.2.1. Connection
5.2.2.1.1. WOK
5.2.2.1.2. Framework Area
5.2.2.2. Connection
5.2.2.2.1. WOK
5.2.2.2.2. Framework Area
5.3. Subject 3
5.3.1. AOK
5.3.2. RLE/PK Connections
5.3.2.1. Connection
5.3.2.1.1. WOK
5.3.2.1.2. Framework Area
5.3.2.2. Connection
5.3.2.2.1. WOK
5.3.2.2.2. Framework Area