Contract between the Top Management of Association X (referred to as "CEO") and the Event Organizers
by Michael Heipel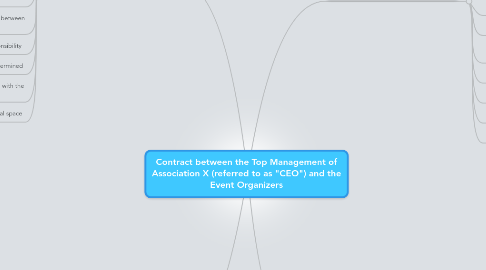 1. What is required as a performance by the CEO in order to get the job of Event Organizer done
1.1. Trust
1.1.1. To take decisions
1.2. Accurate guidance
1.2.1. Mentoring
1.2.2. Advice in new situation
1.2.3. Sharing experience
1.2.4. Clear Objectives
1.3. More...
1.3.1. Money
1.3.2. Resources
1.3.3. Staff
1.4. Inspiration
1.5. Open-mindedness
1.5.1. Open to new ideas
1.6. Communications, good understanding between CEO and Event Organizer
1.7. Responsibility
1.8. Often times, Event Organizer feels undermined
1.9. Support when it comes to interactions with the Board
1.10. Having experimental space
1.10.1. Fail cheap fail often
2. What the Event Organizer is committed to deliver in return
2.1. Deliver within budget
2.2. Bring new ideas
2.3. Run better events
2.4. Enhance reputation
2.5. Target new audiences
2.6. Keep up to date with new technology and new thinking
2.7. Create future business opportunities
2.8. More /easier communication
2.9. Develop interesting content
2.10. Accountability
2.11. Allow interaction and introduce new event formats
2.12. Deliver new events
2.13. Measurement of success or failure
2.14. Analyze the value created by event
2.15. Continuity
3. Compiled by ca. 60 Association Event Organizers and Michael Heipel, Executive Director Marketing and Event Management, World Association of Newspapers and News Publishers, during the Association Program at EIBTM 2011.
4. Contact Michael Heipel on Twitter @michaelheipel, Event Marketing Blog at http://michaelheipel.wordpress.com