Implement Commission's external aid
by
François Georges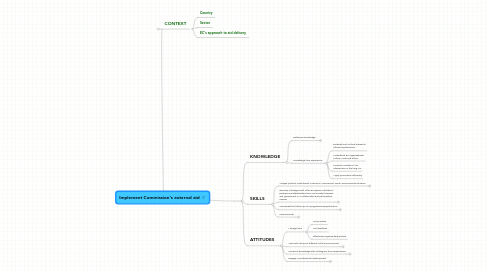 0.0
stars -
0
reviews range from
0
to
5
Implement Commission's external aid
Questions in blue are inspired from HERDSA (Higher Education Research and Development Society of Australasia Inc.) HERDSA
CONTEXT
Country
Sector
EC's approach to aid delivery
1
KNOWLEDGE
Reference knowledge, Know basic issues on Aid Delivery Methods, Aid architecture (global partnership), Civil society organisations, International organisations, Governments of EU Member States, EC's approach to aid delivery, The project approach, Project Cycle Management, The Logical Framework, The sector approach, Sector policy document and agreed strategic framework with clear measurable outcomes, a timeframe and an institutional framework to ensure efficient implementation , Medium-term financing framework that is set within realistic medium-term budget expectations sourced from all funds, Coordination process amongst the donors in the sector, led by government and a harmonisation and alignment of coordination processes, also led by the government, Institutional setting and existing capacities, Agreed performance monitoring system which includes a systematic client consultation mechanism., The budget support, The different objectives of budget support, The relationship between the principles of budget support and the financial regulations of the Commission, The views of the Court of Auditors and Parliament on Budget Support, Public debate surrounding the use of budget support, The approach to the evaluation of budget support, Aid effectiveness agenda, EC rules and procedures, Know basic knowledge in finance and economics, Know country specificities, National structures and institutions (mapping of institutional responsibilities), National development policies and strategies, History, Politics, Macro economic context, Public finance management, Know sector/thematic specificities, Macro-economic support, Public finance management (PFM/Reforms), Revenue collection, Budget basics, Budget preparation, Budget execution, Budget reporting, Budget auditing, Decentralisation, Sector specific PFM issues or/and synergies, Institutional assessment and Capacity Development, Public sector management and reform, Performance measurement, Statistics/indicators, Development economics, Growth issues, Poverty reduction strategies, Trade & Development, Economics of aid and development, International institutions and development, Functioning of markets in developing countries, Macro-economics, Micro-economics, Trade and regional integration, Environment and sustainable management of natural resources, Infrastructure, communications and transport, Water and energy, Rural development, territorial planning, agriculture and food security, Animal production and health, Education and extension, Engineering technology and research, Farming practicies and systems, Fisheries and aquaculture, Food safety and human nutrition, Forestry, Natural resources and environment, Plants production and protection, Governance, democracy, human rights and support for economic and institutional reforms, Conflict prevention and fragile states, Human development, Early childhood, Primary Education, Secondary Education, Higher Education, Literacy, Teacher Education, Quality assurance and recognition, Distance learning and ICT, Education in post conflict situation, Curriculum development, Health issues, Social cohesion and employment, Child labour, Decent work, Economic and social development, Employment promotion, Employment security, Equality and discrimination, Forced labour, Freedom of association and the right to collective bargaining, Individual sectors and indstries, Labour law, Labour migration, Safety and health at work, Skills, knowledge and employability, Social security, Workers ans employers organisations, tripartism and social dialogue, Working conditions, Youth employment, Know cross cutting issues, Democracy, Good Governance, Human rights, the rights of children and indigenous peoples, MDG : Achieve universal primary education, MDG : Improve maternal health, MDG : Reduce the mortality rate of children, MDG : Develop a global partnership for development, MDG : Eradicate extreme poverty and hunger, Gender equality, MDG : Promote gender equality and empower women, Environment sustainability, MDG : Ensure environmental sustainability, HIV/AIDS, MDG : Combat HIV/AIDS, malaria and other diseases
Knowledge from experience, Embody local cultural elements influencing behaviour, Understand EU organizational culture, code and ethics, Consider context of AID intervention in the long run, Apply procedures efficiently
SKILLS
Analyse political, institutional, economic, commercial, social, environmental situation, Identify priorities of EU and partner country, Identify and select relevant indicators (for sector and/or country), Identify evidences from implementation, publications, lessons learned, etc., Identify problems, constraints, opportunities and synergies, What forms of information about the situation do you collect on a regular basis?, How do you use the information obtained in help you make decisions?, How do you change your approaches to problem in the light of the information obtained?
Develop a dialogue with other European institutions, partners and stakeholders from civil society, business and government in a collaborative and participative manner, Install on-going contacts between partners, Address all governance-related issues of common and mutual interest, Establish shared agendas and joint definition of priority areas of co-operation, Conduct negotiations in accordance with a given mandate, Coordinate action with national procedures and timetables, Mobilize local capacities
Coordinate the follow up of a programme/project/action, Program, Identify, Formulate, Finance, Implement and monitor, Evaluate
Communicate, Report in a transparent and accountable manner, Manage public relations, Represent, communicate in a professional manner with specialists in the partner country (notably the Ministry of Finance) and in international organisations (IMF, World Bank,...) in a way that enhances the reputation of the EC, Ensure visibility of actions
ATTITUDES
Manage time, Set priorities, Set deadlines, Effectively organise daily actions
Work with others in different cultural environment, Make effective use of external competences, Conduct a meeting, Manage a team, Manage crisis, Deal with "difficult" persons, Listen before deciding
Construct knowledge with colleagues, from experiences, Share knowledge with colleagues,  What opportunities do you make to discuss aspects of your work with colleagues?,  What opportunities do you make to receive feedback on your work from colleagues?,  In what ways do you ensure that your more junior colleagues receive your help and support?,  In what ways do you maintain and develop communication with your colleagues in your department/division? , What do you do to work with your colleagues or to encourage colleagues to become aware of the potential for learning from each other and the benefits of working in groups? , Share knowledge within EU, In what ways do you maintain your familiarity with national or local policy directions, monitor effects on AID delivery, and voice your concerns in appropriate forums?, How do you ensure that your institution is using a comprehensive approach to AID delivery for the purposes of tenure, promotion and developmental review? , In what ways do you contribute to decision-making processes in your institution in order to enhance AID delivery?
Engage in professional development, Display desire to remain up to date and further develop understanding relevant literature in the areas mentioned above,  What strategies do you employ to reflect upon your work practices and identify areas for development?, How do you go about developing your skills and expertise in the field of AID delivery in general, or of your speciality in particular?, Research ideas and overtime to deepen knowledge in the areas mentioned under "knowledge" above in order to be in a better position to bring ideas to bear on the problems at hand, How do you stay in touch with developments in your own discipline or profession (AID delivery)?, How do you keep your expertise in your own field up to date?, Do you participate in seminars, courses, or conferences in the field of AID in general, or of your speciality in particular?, What reading related to the field of AID delivery in general, or of your speciality in particular?