visual-mapping.com
by philippe boukobza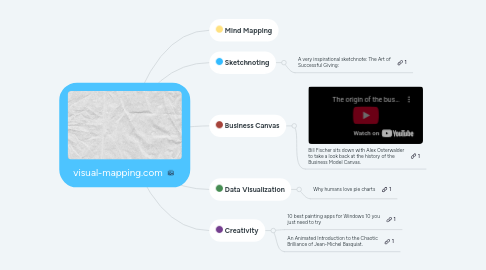 1. Mind Mapping
1.1. MindMeister: Introducing the New Map Template Library!
1.2. MindNode 6 mind mapping app adds new Focus mode to Mac and iOS
1.3. XMind Zen update for this Spring
2. Creativity
2.1. 10 best painting apps for Windows 10 you just need to try
2.2. An Animated Introduction to the Chaotic Brilliance of Jean-Michel Basquiat.
3. Data Visualization
3.1. Lucidchart evolves into a flexible data visualization tool
3.2. Why humans love pie charts
3.3. The $80 Trillion World Economy in One Chart
4. Business Canvas
4.1. Bill Fischer sits down with Alex Osterwalder to take a look back at the history of the Business Model Canvas.
5. Sketchnoting
5.1. A very inspirational sketchnote: The Art of Successful Giving: