Online Collaboration Tools - The Collaborative 2008 LearningTrends Map
by
Antonio Mendes Ribeiro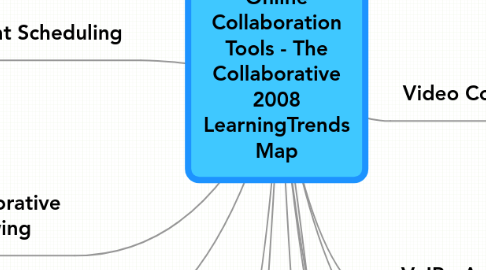 4.7
stars -
6
reviews range from
0
to
5
Online Collaboration Tools - The Collaborative 2008 LearningTrends Map
Mindmapping
web-based
downloadable software
Cmap
compendium
VoIP - Audio Conferencing
Video Conferencing
Only allows video between two parties, but is extremely smooth.
Instant Messaging
Lotus Notes
Screen-Sharing
Remote Control
Webinars
Note taking
Web Conferencing
Web conferencing is used to conduct live meetings or presentations over the Internet. In a web conference, each participant sits at his or her own computer and is connected to other participants via the...
Document Sharing - Wikis
Offers more customization options than either pbwiki or wikispaces (without upgrading to the pay version).
wikidot
mediawiki
source control
wikispaces.com
GoogleDocs
Zoho
mindtouch Deki
other
etherpad
Co-browsing
Web Presenting
Multimedia Presentations
WorkGrouping
Event Scheduling
GCalendar
any iCal app
Project Management
PHProjekt
Backpack
Google Spreadsheet
voo2do
File Sharing
Virtual desktops