CRM
by anthony vansteenbrugge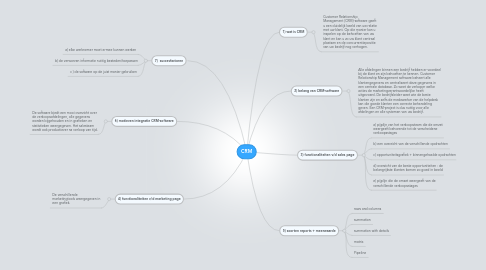 1. 1) wat is CRM
1.1. Customer Relationship Management (CRM)-software geeft u een duidelijk beeld van uw relatie met uw klant. Op die manier kan u inspelen op de behoeften van uw klant en kan u zo uw klant centraal plaatsen en de concurrentiepositie van uw bedrijf nog verhogen.
2. 2) belang van CRM-software
2.1. Alle afdelingen binnen een bedrijf hebben er voordeel bij de klant en zijn behoeften te kennen. Customer Relationship Management software beheert alle klantengegevens en centraliseert deze gegevens in een centrale database. Zo weet de verkoper welke acties de marketingverantwoordelijke heeft uitgevoerd. De bedrijfsleider weet wie de beste klanten zijn en zelfs de medewerker van de helpdesk kan die goede klanten een correcte behandeling geven. Een CRM-project is dus nuttig voor alle afdelingen en alle systemen van uw bedrijf.
3. 3) functionaliteiten v/d sales page
3.1. a) pijplijn van het verkoopsteam die de omzet weergeeft behorende tot de verscheidene verkoopsstages
3.2. b) een overzicht van de verschillende opdrachten
3.3. c) opportuniteitsgrafiek + binnengehaalde opdrachten
3.4. d) overzicht van de beste opportuniteiten : de belangrijkste klanten komen zo goed in beeld
3.5. e) pijplijn die de omzet weergeeft van de verschillende verkoopsstages
4. 4) functionaliteiten v/d marketing page
4.1. De verschillende marketingtools weergegeven in een grafiek.
5. 5) soorten reports + meerwaarde
5.1. rows and columns
5.2. summation
5.3. summation with details
5.4. matrix
5.5. Pipeline
6. 6) motieven integratie CRM-software
6.1. De software biedt een mooi overzicht over de verkoopsafdelingen, alle gegevens worden bijgehouden en in grafieken en statistieken weergegeven. Het salesteam wordt ook productiever na verloop van tijd.
7. 7) succesfactoren
7.1. a) elke werknemer moet ermee kunnen werken
7.2. b) de verworven informatie nuttig besteden/toepassen
7.3. c ) de software op de juist manier gebruiken