EMULSIFIERS
by
Wan Nuur Sumaiyah bt Wan Ismail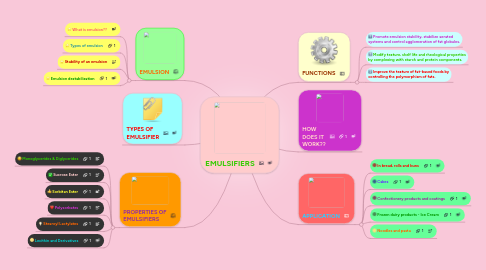 0.0
stars -
0
reviews range from
0
to
5
EMULSIFIERS
Emulsifiers are substances which reduce the surface tension at the interface of two normally immisicble phases, allowing them to mix and form an emulsion. Emulsifiers belong to the general class of compounds called "surface-active agents" or surfactants.
FUNCTIONS
Promote emulsion stability, stabilize aerated systems and control agglomeration of fat globules.
Modify texture, shelf life and rheological properties by complexing with starch and protein components.
Improve the texture of fat-based foods by controlling the polymorphism of fats.
HOW DOES IT WORK??
Emulsifier's molecule structure have both polar and non-polar group. The presence of both regions on the emulsifier molecule allows them to orient themselves at the phase interface and lower the interfacial energy that leads to instability. It stabilize emulsion by means of monomolecular interfacial films and also by formation of steric and/or electrical barriers that prevent coalescence of the dispersed droplets.
APPLICATION
In bread, rolls and buns
Cakes
Confectionery products and coatings
Frozen dairy products - Ice Cream
Noodles and pasta
EMULSION
What is emulsion??
Types of emulsion
Stability of an emulsion
Emulsion destabilization
TYPES OF EMULSIFIER
Polar head groups in emulsifier molecule may be present in a variety of functional groups. They may be incorporated to produce ionic, cationic, amphoteric, or nonionic surfactants. Nonionic – Uncharged molecules relatively insensitive to effects of pH and salt content. Most commonly used  food emulsifier type. Example: mono- and diglycerides, sorbitan esters,  sucrose esters, polysorbates, polyoxyethylene glycol oleates (all contain an –OH functional group). Anionic – posess a negative electrical charge; e.g., Stearoyl lactylates, diacetyl tartaric esters of monoglycerides (DATEM), succinylated monoglycerides; Functionality may be markedly influenced by pH and ionic strength. Cationic – Possess a positive electrical charge; e.g., amine compounds. Not used as food additive (toxic). Amphoteric – Possess both positive and negative charges; e.g., various lecithins; may act as anionic or cationic emulsifier, depending on pH of the system.
PROPERTIES OF EMULSIFIERS
Monoglycerides & Diglycerides
Sucrose Ester
Sorbitan Ester
Polysorbates
Stearoyl Lactylates
Lecithin and Derivatives