EMULSIFIERS
by Wan Nuur Sumaiyah bt Wan Ismail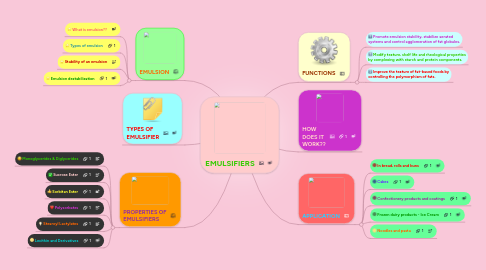 1. FUNCTIONS
1.1. Promote emulsion stability, stabilize aerated systems and control agglomeration of fat globules.
1.2. Modify texture, shelf life and rheological properties by complexing with starch and protein components.
1.3. Improve the texture of fat-based foods by controlling the polymorphism of fats.
2. HOW DOES IT WORK??
3. APPLICATION
3.1. In bread, rolls and buns
3.2. Cakes
3.3. Confectionery products and coatings
3.4. Frozen dairy products - Ice Cream
3.5. Noodles and pasta
4. EMULSION
4.1. What is emulsion??
4.2. Types of emulsion
4.3. Stability of an emulsion
4.4. Emulsion destabilization
5. TYPES OF EMULSIFIER
6. PROPERTIES OF EMULSIFIERS
6.1. Monoglycerides & Diglycerides
6.2. Sucrose Ester
6.3. Sorbitan Ester
6.4. Polysorbates
6.5. Stearoyl Lactylates
6.6. Lecithin and Derivatives