Assistive Technology as a Career
by
E.A. Draffan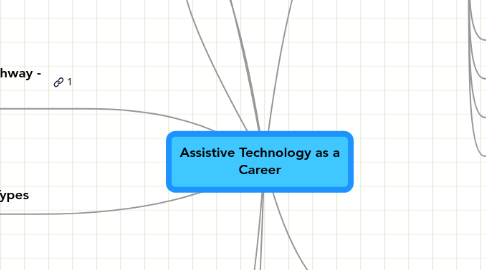 0.0
stars -
0
reviews range from
0
to
5
Assistive Technology as a Career
Research and Development Work Relating to Assistive Technology 2007-08
Definitions
Technical aids for disabled persons – Classification "any product, instrument, equipment or technical system used by a disabled person, especially produced or generally available, preventing, compensation, relieving or neutralising the impairment, disability or handicapped."
"piece of equipment, product system, hardware, software or service that is used to increase, maintain or improve functional capabilities of individuals with disabilities. NOTE This can be acquired commercially off-the-shelf, modified or customized. The term includes technical aids for persons with disabilities. Assistive devices do not eliminate an impairment but may lessen the difficulty an individual has in carrying out a task or activity in specific environments." (CEN/CENELEC – European Committee for Standardisation -  Guide 6 Guidelines for standards developers to address the needs of older persons and persons with disabilities.)
Assistive Technology (AT) is any product or service designed to enable independence for disabled and older people. (King's Fund consultation, 2001)  FAST
"Assistive Technology (AT) is a generic term that includes assistive, adaptive, and rehabilitative devices and the process used in selecting, locating, and using them. AT promotes greater independence for people with disabilities by enabling them to use items that they were formerly unable to use by providing enhancements or methods of using the technology." Wikipedia
"An umbrella term for any device or system that allows individuals to perform tasks they would otherwise be unable to do or increases the ease and safety with which tasks can be performed." (World Health Organisation, "A Glossary Of Terms For Community Health Care And Services For Older Persons", 2004 )
"Assistive Technology is any product or technology-based service that enables disabled or elderly people in their daily lives, education, work or leisure."  EASTIN project
"Any item, piece of equipment, or product system, whether acquired commercially, modified, or customized, that is used to increase, maintain, or improve the functional capabilities of individuals with disabilities." Section Three of the Assistive Technology Act, USA.
"Technology which can help compensate for functional limitation, facilitate independent living and which can enable disabled and older people to realise their potential." Community technology initiative for disabled and elderly people (TIDE)
"Assistive Technology: is an umbrella term for any device or system that allows an individual to perform a task they would otherwise be unable to do or increases the ease and safety with which the task can be performed." The Role of Assistive Technology in Alternative Models of Care for Older People by Dr. Donna Cowan and Dr. Alan Turner-Smith
Assistive technology is the use of any device that will enable persons with disabilities to function to their maximum potential educationally, vocationally, socially and in daily living activities. This includes both low and high technology applications. Low or "lite" technology refers to any apparatus that is either non-electronically-based or simple battery operated items (e.g., toys, tape recorders). High technology involves the use of sophisticated systems that are electronically-based (e.g., power wheelchairs and environmental control systems).  How to Keep Abreast of Technology. Bristow & Pickering, 1992
"Assistive Technology (AT) is any type of equipment that helps people with disabilities or older individuals be more independent at home, school, work, leisure time, or in community life." (North Carolina Assistive Technology Project
"Assistive Technology (AT) includes both devices and services. A device is any item or piece of equipment used to maintain or improve the functional capabilities of a person with a disability."  Washington Assistive Technology Act Program
"In the XXIst century Assistive Technology (AT) should be defined as a scientific & technologic approach to develop products and services oriented to support elderly people and people with disabilities in their daily activities, maximizing their personal autonomy, independence, health and quality of life." Health Division –Fatronik
assistive technologies that are designed to help those with specific difficulties or disabilities work and study more effectively.
Any technology that makes e-learning easier has been called an Assistive Technology.
AT Environments
Notes taken from The Role of Assistive Technology in Alternative Models of Care for Older People Dr. Donna Cowan and Dr. Alan Turner-Smith Centre of Rehabilitation Engineering, KingÕs College London
In the home - National Health
Leisure and Education
Professional Bodies in UK
Training Courses
AT Types
Communication
Interpersonal Computer Access Telecommunications Multimedia User Interfaces Environmental Controls (Seating and positioning)
Mobility
Manual Mobility Aids Powered Mobility Aids Private Transportation Public Transportation Motor Function Seating and Positioning
Manipulation
Recreational/Sports Devices Robotics Environment Control/ Adaptation of Houses ADL Devices Motor function
Orientation
Orientation and Navigation Systems Telecommunications (e.g. video telephones) Robotics
Cognition
Time aids Planning aids
Access
Such as screen readers
Enabling
Coping strategies such mind mapping for ideas etc.
Publications
Ideas for new modules?
HCI gap and human centric software design
computer gtaphic and HCI link with AT
SEG project would have helped if you had to do one usability test.
simulation programs - not same as trials
Rich case studies - link to videos