OPERATION: CLOVE
by Danish Alif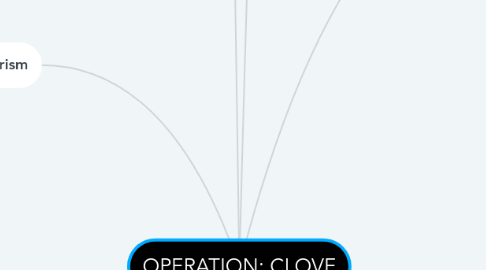 1. BILATERAL RELATIONS
1.1. If Singapore were to be caused by natural disaster such as the Tsunami, earthquake and hurricane, how would its allies respond?
1.1.1. Singapore doesn't have allies. But Singapore have friends and buddies in defense treaties like the Five Power Defense Arrangement (FPDA) such as United Kingdom, Australia, New Zealand & Malaysia. Singapore also have close ties with Brunei.
1.2. INDONESIA AND SINGAPORE
1.2.1. History
1.2.1.1. Relationship began in 1967
1.2.1.2. In 1965, two Indonesia marines bombed MacDonald House located at middle of Orchard Road, Singapore
1.2.1.2.1. 36 injured and 3 dead
1.2.1.2.2. In 1968, hanging of the two Indonesian marines
1.2.1.2.3. Prime Minister Lee Kuan Yew visited Indonesia in 1973
1.2.2. Present
1.2.2.1. Bilateral ties grow and develop through bilateral trade, post-Suharto era
1.2.2.1.1. In 2015, Singapore was Indonesia's 4th largest training porter with bilateral trade amounted to US$58.7 billion
1.2.2.1.2. In 2017, bilateral trade increased significantly and Singapore became Indonesia's second largest trading porter.
1.2.2.2. Singapore has provided humanitarian aid to Indonesia and supported in disaster relief efforts
1.2.2.2.1. Sep 2009, 7.6 magnitude earthquake hit Sumatra. Singapore Armed Forces and medical team were dispatched to support in the disaster relief
1.2.2.2.2. Dec 2014, Indonesia Air Asia QZ8501 crashed into Java Sea off Borneo. Singapore offered resources (initial search and rescue efforts)
1.2.2.2.3. Dec 2004, a tsunami swept across the Indian Ocean after an 9.1 magnitude undersea earthquake. SAF sent in relief supplies such as food, tents, blankets and medicine to Meulaboh at the request of Indonesian government.
1.2.2.2.4. Sep 2018, 7.5 earthquake magnitude hit an Indonesia island off Sulawesi and resulted in a tsunami that swept Palu and Donggaia. SAF sent in humanitarian supplies to Indoneisa
1.3. CLUES
1.3.1. STREAT : 12-13 July, 5-11 PM Venue : The Promontory
1.3.2. The 50 Cents Fest : 27-28 July, 11am-11pm Venue : Chinatown Food Street
1.4. SECRET CODE
1.4.1. EW16NE3
2. What we know about terrorism
2.1. 5 types of terrorism :
2.1.1. State-Sponsored Terrorism -terrorist acts on a state or government by a state or government
2.1.2. Dissent Terrorism -terrorist groups which have rebelled against their government
2.1.3. Terrorist and the Left and Right -groups rooted in political ideology
2.1.4. Religious Terrorism -terrorist groups which are extremely religiously motivated
2.1.5. Criminal Terrorism -terrorist acts used to aid in crime and criminal profit
2.2. RESEARCH
2.2.1. What we know about terrorism
2.2.1.1. Terrorism is not an ideology like communism or capitalism. Terrorism is a strategy used to achieve a specific end. This strategy is often used in asymmetric power struggles when a weaker person, or group, is fighting against a powerful nation-state. The violence is aimed at creating fear in the targeted population and often provokes prompt and violent response from the state. Acts of terrorism followed by violent crackdowns can become a cycle that is difficult to disrupt. Recently, terrorist groups have begun using the internet and the media to spread fear and affect public opinion.
2.2.1.2. Examples like the Islamic State uses the internet to recruit followers. Nations also use terrorism tactics in other countries to safeguard their own national interest. Iran is known for supporting Hezbollah in Lebanon against Israel. The United States supported the Muslim Brotherhood in Egypt against the communist government of Gamal Abdel Nasser and the mujahideen in Afghanistan against the Soviet Union.
2.2.2. What do terrorists want?
2.2.2.1. Terrorists are not all after the same thing. Terrorists often justify their bloody acts on the basis of perceived social, economic and political unfairness and they take inspiration from religious beliefs or spiritual principles. Many forms of terrorism were inspired by warfare between races, struggles between the rich and poor or battles between political outcasts and elites. Some are ethnically based separatism movements, like the Irish Republican Army or Palestine Liberation Organization. The former cartel of Medellin are considered narco-terrorists like the drug lord Pablo Escobar because they combine drug trafficking with terrorism tactics to intimidate government and population. Movements led by the extreme left like Colombia's FARC, Fuerzas Armadas Revolucionarias de Colombia (Revolutionary Armed Forces of Colombia) are an example of terrorism inspired by a socioeconomic doctrine. In this case, a belief in communism. Many terrorist groups are inspired by a specific interpretation of religious or prophetic scriptures. Al-Qaeda and ISIS are two related groups that justify their violent actions as part of a crusade against nonbelievers. ISIS wants to establish a Caliphate, or an Islamic-ruled state. How different terrorist groups act is informed by what they are trying to achieve. Some adopt a reactionary perspective aimed at stopping or resisting social, economic and political changes. Examples include ISIS, al-Qaeda and the Army of God, a Christian anti-abortion group based in the U.S. Others adopt a revolutionary doctrine and want to provoke change. Examples include the former Red Army Faction in Germany, the Irish Republican Army and Basque separatists in Spain.
2.3. Is terrorism getting worse?
2.3.1. Despite the intensity of media coverage and public perception, terrorism is actually not more frequent today than a few decades ago. For instance, terrorist attacks were far more common during the Cold War period than during the post 9/11 era. Some experts believe terrorism peaked during the 1970. Despite the recent attacks, the U.K. and Western Europe experienced relatively low terrorist activity during the period 2000 to 2016 compared with the period 1970 to 1995. In the United States, terrorism attacks were in sharp decline from 1970 to 2011, decreasing from approximately 475 incidents a year to fewer than 20.
2.4. Does terrorism happened worldwide?
2.4.1. Worldwide, terrorism is highly concentrated in only a handful of countries. Terrorist attacks in 2014 were mainly concentrated in Afghanistan, Iraq, Nigeria, Pakistan and Syria. These countries saw 78 percent of the deaths and 57 percent of all attacks in the world. Since 2000, only 3 percent of deaths caused by terrorist attacks took place in Western countries, including Australia, Canada, members of the European Union and the United States. In the U.S., the number of deaths represents 2.2 percent of the worldwide terrorist death toll. The violence committed in Western countries by organized terrorist groups such as al-Qaeda or ISIS represents approximately 30 percent, while so-called "lone wolfs" account for 70 percent of the attacks. All in all, terrorism activity in Western countries is not worse than before the 9/11 era. The opposite is true. According to American University professor Audrey Cronin, terrorism as a tactic does not work well. Cronin studied 457 terrorist groups worldwide since 1968. The groups lasted an average of eight years before they lost support or were dismantled. No terrorist organizations that she studied were able to conquer a state, and 94 percent were unable to achieve even one of their strategic goals.
3. TERRORISM
3.1. BOMBING AT CENTRAL JAKARTA
3.1.1. IN YEAR 2017
3.1.2. Police traffic post near affluent shopping mall
3.1.3. 5 assailants, 7 killed and 23 civilians wounded
3.1.4. Khatibah GR is the terrorist group that plans to bomb the mall in Central Jakarta
3.2. BOMBING AT PUCHONG
3.2.1. IN YEAR 2016
3.2.2. Puchong, Selangor near downtown Kuala Lumpur
3.2.3. 2 attackers threw a grenade into Movida nightclub
3.2.4. 8 casualties
3.2.5. Other entertainment centres were targeted too for being unislamic
3.2.6. 2 of the suspects are police officers
3.3. BOMBING AT BANGKOK, THAILAND
3.3.1. IN YEAR 2015
3.3.2. Over 18 people was killed and 100 more was injured
3.4. 6 MEN PLOTTED TO ATTACK WITH ROCKETS FROM BATAM TO MARINA BAY SANDS
3.4.1. Police said their leader had been planning a rocket attack on Marina Bay together with a Syrian-based Indonesian ISIS militant. The six men in Batam had been kept under watch for a while before they were arrested by Indonesian police in an early-morning raid.
3.5. CLUES
3.5.1. "A POEM to string your secret codes, A DENT is made when the bomb explodes."
3.6. If the terrorist were to attack Singapore where, when & how would it be?
3.6.1. Where?
3.6.1.1. The terrorist will most likely be attacking at popular attractions that will have alot of people and crowds such as Marina Bay, Sentosa, Orchard & especially events like National Day
3.6.2. When?
3.6.2.1. The terrorist will normally do it during the holidays where most people will be spending time with their families and friends, hence on the holidays are the main attractions to the terrorists.
3.6.3. How?
3.6.3.1. The terrorist favorite are using bombs. By doing it, it will impact a lot of casualties and cause chaos through the whole country.
3.7. SECRET CODE
3.7.1. JE5EW24
4. VULNERABILITY OF SINGAPORE
4.1. ASEAN COLLABORATION
4.1.1. Research
4.1.1.1. ASEAN 3 : -The term that refers to the countries of ASEAN plus China, Japan and South Korea. -Formed in the aftermath of the 1997 Asian financial crisis. -The East Asia Vision Group was formed to create a vision for cooperation to prevent another crisis from happening again.
4.1.1.2. "A bad neighbour is a misfortune, as much as a good one is a great blessing" - Hesiod
4.1.1.3. Foreign aid strengthens national security
4.1.2. The key to fighting terrorism and preventing it from festering
4.1.2.1. Maintain coherent
4.1.2.2. Stay united
4.1.2.3. Tolerant of each other
4.1.2.4. Accommodating towards one another
4.1.3. Tackling the threat of ISIS
4.1.3.1. ISIS sourcing for funds & manpower
4.1.3.2. Southeast Asia is one of the most favorable region for the ISIS
4.1.3.3. ISIS has developed networks across the Southeast Asia
4.2. CLUES
4.2.1. 13 July Gaylang Serai
4.2.2. 20 July Chinatown
4.2.3. 27 July Little India
4.2.4. Singapore Vegan Street Food Crawl: 13 July - Geylang Serai, 20 July - Chinatown , 27 July - Little India
4.3. If Singapore were to be under attacked by Terrorists, who would be responding?
4.3.1. The Singapore Arm Force
4.3.2. The Singapore Police Force
4.3.3. Singapore Civil Defence Force
4.4. SECRET CODE
4.4.1. NE4DT19
5. NUTMEGS AND CLOVES
5.1. BANDA ISLANDS IN INDONESIA and EUROPE
5.1.1. August 1511
5.1.1.1. Afonso de Alberquerque conquered Malacca which was a vital trading port in the southern coast of malaysia
5.1.1.2. He heard about Banda Islands where the nutmeg had been coming from all those years.
5.1.1.3. He then sent 3 vessels which arrived in the islands in 1512 to buy nutmeg , mace and cloves before travelling back.
5.1.1.4. Portuguese took a full control of the nutmeg trade until the Dutch East India Company started to do a monopoly on the production and trade of nutmeg.
5.1.1.5. During Napoleonic wars , the British succeed to take control of the Banda Islands from the Dutch temporarily.
5.1.2. Why Nutmegs & Cloves
5.1.2.1. Nutmegs and cloves are native to Indonesia and among the most expensive spices in the world.
5.1.2.2. The production of these spices is challenging and this explain the high costs.
5.1.2.3. They are sought after because of the perceived medicinal properties and use in cooking.
5.2. SECRET CODE
5.2.1. NS24NE6