Preserving the world and environmentalism have gained importance, the cloth bags that are widely used today are of great importance in terms of nature and human health. Let's support shopping without bags. Let's design a cloth bag. Identify an impressive slogan you want to be in our bag.
by gonca bahar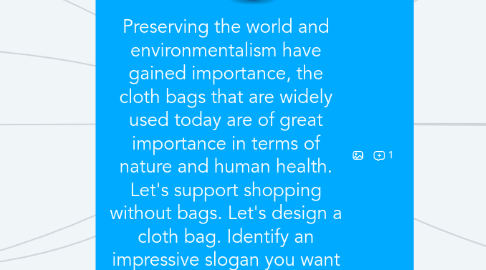 1. 13.TEAM:LET US BE SENSITIVE TO THE ENVIRONMENT / ÇEVREYE KARŞI DUYARLI OLALIM
2. TEAM 9---THERE IS NO PLANET B
3. 4.TEAM:Save nature./ Doğayı koru.
4. 6.TEAM Take care of nature for your future/ Geleceğin için Doğaya sahip çık.
5. 5.TEAM: We're starting from scratch, protecting nature./Sıfırdan başlıyoruz,doğayı koruyoruz.
6. 11 TEAM:Love the nature protect the green/Doğayı sev, yeşili koru.
7. 1.TEAM: We care about nature, we use environmentally friendly bag. / Doğayı önemsiyoruz, çevre dostu çanta kullanıyoruz.
8. 2. TEAM: Seda Özbek - Derya Dikici. - It is in our hands to protect nature. /Doğayı korumak hepimizin elinde.
9. 3.TEAM:Let's reduce the nylon bag, protect the nature. /Poşeti azaltalım doğayı koruyalım
10. 12.TEAM: To project nature, I am in too./ Doğayı korumak için ben de varım.
11. 8.TEAM:We are at war with nature. If we win, we will lose/Doğayla savaş halindeyiz. Eğer kazanırsak, kaybedeceğiz.
12. 10. TEAM:CARRY THE WORLD İN YOUR CLOTH BAG / DÜNYAYI BEZ TORBANDA TAŞI
13. 12.TEAM: Protect nature for fresh air. / Temiz hava için doğaya sahip çık.
14. 13. Team: Recycling is life. / Geri dönüşüm hayattır.
15. 1. Team: Who knows the nature, respects it! / doğayı bilen, ona saygı duyan
16. 3.Team: The world is not us, but we carry the world / Dünya bizi değil,biz Dünya yı taşıyalım.
17. TEAM 9. TURGUT AYDIN ALICE SEVERI THE CLIMATE IS CHANGING,WHY AREN'T WE?İKLİM DEĞİŞİYOR,PEKİ BİZ NEDEN DEĞİŞMİYORUZ?
18. Team 4-Fatma Akgül-Saadet Bahar-Protect our earth today for our children's tomorrow.(Dünyamızı yarının çocukları için koruyalım)
19. 7.Team: it's up to you to save nature/Doğayı kurtarmak senin elinde
20. 2. TEAM: The happiness of the world is in our hands /Dünyanın mutluluğu bizim ellerimizde.
21. 5.TEAM:The future begins today/Gelecek bugün başlar.
22. 6. TEAM :Let's hand to hand for a green world /Yeşil bir dünya için haydi el ele.
23. 7.TEAM: MONEY IS NOTHING IF THERE IS NO LIFE;SAVE LİFE/YAŞAM YOKSA PARA BİR HİÇTİR;YAŞAMI KURTAR
24. 8.TEAM:Less nylon bag for a green world / Yeşil bir dünya için daha az poşet
25. 10. TEAM:MY NATURE IS THIS / BENİM DOĞAM BU
26. 11.TEAM:Use eco-friendly bags. Doğa dostu çanta kullan.