Life as an Internet StartUp CTO/ProductPerson - Jan'2012
by
Bill Seitz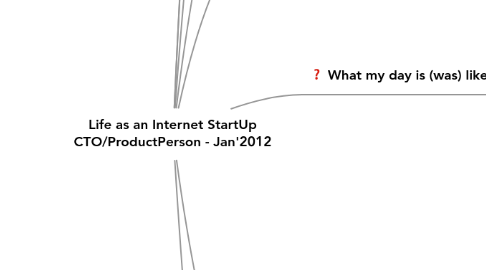 0.0
stars -
0
reviews range from
0
to
5
Life as an Internet StartUp CTO/ProductPerson - Jan'2012
Why?
ChangeTheWorld
See relatively direct results
Lots of variation, change, learning
Programming
Team leading
Product management, Strategy, Prioritizing
Entrepreneurship, Business model, Sales strategy
Good/fun team-mates
Other growth areas
NBIC
Education, Health, Leisure
My history
Pre-Web
schools
jobs, consulting, hospital, CBS TV
NYC
4 Internet StartUps
Medscape -> WebMD
Corporate-lawyer net-firm
Senior monitoring
ebook distribution
NonProfit
performing arts
still NYC
Starting OneManShow-s
PersonalFinance WebApp
EBook/Community RealityHackers
Context - 3 future scenarios
More of the same
what they're teaching you now
Collapse
hard to prepare for
small companies, lean
What my day is (was) like
Call to Pakistan (Skype)
Think about product strategy
new product ideas, priorities
make wireframes
Think about business strategy
types of customers, how to get them
value
partners
Sometimes write code
Discuss with team-mates
plans
documents
wiki, email, IM, skype....
Support customers
email
phone
not much
meetings, committees
paperwork
add as OneManShow
design pages
write selling text
network with people
How to prepare for this
the new RenaissanceMan
knight, ronin, DungeonMaster
Program or be Programmed
Web, HTML, CSS, the new Word/PowerPoint, MozillaDrumbeat
Python, Django web framework, LearnPythonTheHardWay
JavaScript, CodeAcademy just started
Ruby, RubyOnRails web framework
ApprenticeShip
Read/Write
WikiLog, PrivateWiki, wikispaces.com
MindMap
Numeracy
Design
Draw? Sculpt? Photo? Video? Play/compose music? Improv!
Turn consumption into creation
Make/Break/Hack
TinkeringSchool SummerCamp
MakeMag, MakerFaire
50 dangerous things
Your body!
mind-support system!, alive, BrightEyedAndBushyTailed
CaveMan
Brain-MagIck
Play - unstructured slack time
reflection, NoteBook
Reading List
Personal-career
CalNewport blog and books, winning the "current" game with less stress
CoolestSchoolInAmerica
TeenageLiberationHandbook
EscapeFromCubicleNation
CareerRenegade
DanPink, JohnnyBunko (manga)
SF
CoryDoctorow, (ask your parents), Makers, EasternStandardTribe, DownAndOutInTheMagicKingdom, LittleBrother, YoungAdult, *gaming* systems
Daemon (violent)
Summary
Everyone should...
Learn to Program, CodeAcademy
Become a RealityHacker
start a NoteBook
have a MeaningfulLife and AgenCy, not be a NPC
Become a RealityHacker
Bill Seitz (search "webseitz")
fluxent@gmail.com
Questions? Goals?